Adaptive Planning Review – Data Planning, Budgeting, and Forecasting for Businesses
by Stephanie Faris
Published on 7 January 2014
Adaptive Planning Review - All aspects of budgeting in one place
Each year, businesses are challenged to estimate cash flow and expenses for the year, creating budget projections based on guesses and historical data. These businesses can benefit from a tool that automates this process, allowing for more accurate estimates and saving financial executives both time and money. Adaptive Planning is a budgeting software package designed to ease the budgeting process for professionals in an easy-to-use, drag-and-drop format. This Adaptive Planning review examines the cloud-based app's features and functionality to help budget professionals determine whether it is the right option for them.
Adaptive Planning Review - About the Company
Since 2003, Adaptive Planning has provided innovative financial planning solutions to businesses of all sizes in a wide variety of industries. Through using its solution, businesses are able to fast-track projects that would have taken months using traditional software. Adaptive Planning strives to build an interface that provides familiarity and comfort to its business users, rather than deploying a complex, IT-geared solution.
Main Functionality of Adaptive Planning
The daunting process of creating and tracking a company's budgets is consolidated in one place with Adaptive Planning. A company's assigned administrator can create multiple processes and add tasks within each one, assigning each task to appropriate staff members. This allows for easy tracking of each phase of the planning process to pinpoint items that have not yet been done.
Once setup is complete, businesses will find all of the forms they need, in the same spreadsheet-style format they've always used. Balance sheets, cash flow, income statements, and more are all available on the Sheets tab within Adaptive Planning. This not only compiles the information in one place, where it can be used to gather reports and provide historical insight, but it also allows team members to view various sheets and receive instant updates on the progress of each.
Benefits of Using Adaptive Planning
Adaptive Planning is a Software as a Service (SaaS) solution, which means it can be deployed from PCs throughout your organization, without assistance from IT staff.
Adaptive Planning is a cloud-based finance software for planning and analysis. It will replace your spreadsheets and link together all your financial information to save duplicate work and reduce errors.
The Basics: What Does It Look Like?
When a user first logs into Adaptive Planning, a welcome screen with announcements appears. The user can then decide to navigate to Processes, Consolidation, Workflow, Sheets, Assumptions, Formulas, or Reports.
Setup
When a user clicks on the Processes tab, the system will prompt for a new process to be created.
New process
Once you've created a process, you can create and assign tasks associated with that process.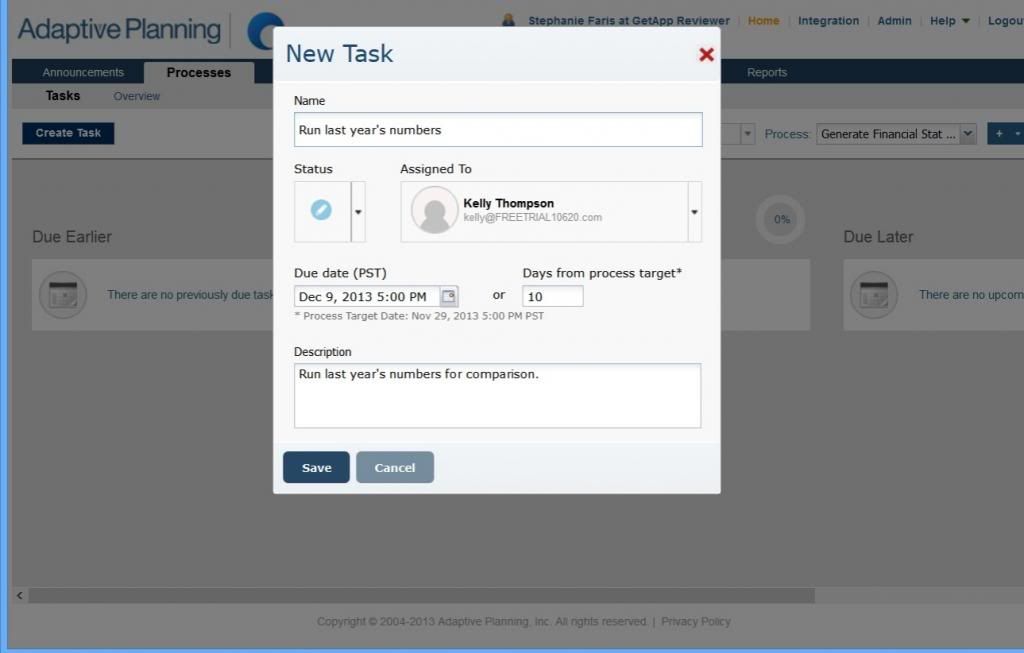 New task
Tasks appear in columns. By scrolling over a task, a user can see details about the person assigned to that task.
Assigning tasks
For businesses that routinely deal with inter-company eliminations, the Eliminations tab will provide an automated solution for managing all inter-company transactions.
Elimininations
The Workflow tab provides an overview of all processes and tasks to determine the status of each.
Workflows
The Sheets tab allows team members to view and update the income statement, balance sheet, cash flow, personnel, capital, and reports, as well as the status of each.
Sheets
The sheets closely match the traditional financial planning format: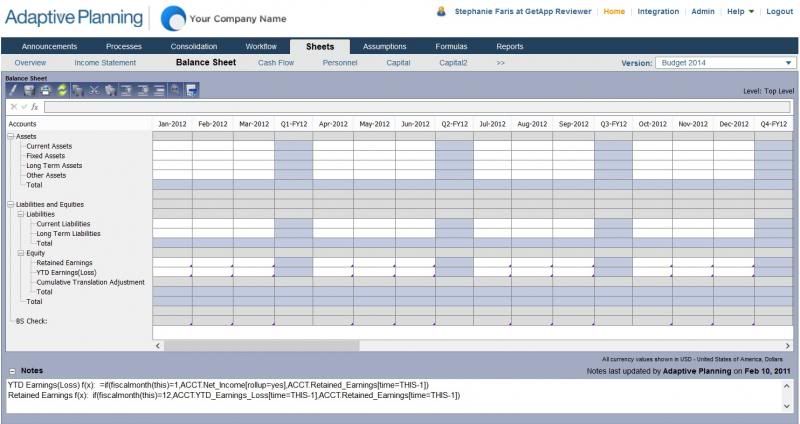 Balance sheet
Adaptive Planning provides a template for Assumptions that can be adjusted to fit an organization's infrastructure.
Assumptions
With Reports, businesses can gain an overview of their finances directly in the Adaptive Planning console.
Reports
Support Information
Support for Adaptive Planning is provided via a help desk ticket. Once the ticket is placed, a user can routinely check back to track its status. Adaptive Planning also offers an extensive library of support information, as well as multiple videos on how to use various aspects of its service.
Pricing Information
Adaptive Planning offers customized pricing based on the number of instances, the options a business chooses, and the number and type of seats that are licensed. Pricing is also based on the length of contract.
Adaptive Planning Review - The Bottom Line
Budgeting and financial planning can be a headache for businesses. Adaptive Planning allows businesses to easily delegate tasks to ease the process slightly. For smaller businesses, the solution will be be too robust and expensive. Adaptive Planning is a good fit for a company that is large enough for a dedicated CFO.
Since a free trial is available, you can try Adaptive Planning to determine whether you are comfortable with the interface and the functionality before signing a contract.
Ratings: ease of use 4/5, features 5/5, value 4/5