Buddy Punch Review – Automating the Time Clock
by Stephanie Faris
Published on 16 April 2014
Buddy Punch Review - For small businesses seeking an easy way to allow employees to clock in and out, Buddy Punch is a great option
The concept of "punching in" has been around for decades, with time clocks hanging in factories, fast food restaurants, and retail locations around the country. Before the digital era, those tools served their purpose, just as typewriters and telegraphs helped the world before something better came along.
Buddy Punch serves as the perfect example that there is a better way. This Buddy Punch review will show how this multi-platform app can eliminate traditional time clocks for good.
Buddy Punch Review - About the Solution
"Buddy Punching" is a term that refers to the practice of having one friend "punching in" for another on a time clock. Interestingly, it's that sort of behavior that Buddy Punch will eliminate. Every time an employee punches in or out, the punch is time stamped, giving businesses a history of every transaction. This time clock software was created to automate the process of clocking in and out each day, with workers even able to complete actions using their own mobile devices.
Main Functionality of Buddy Punch
After signup, a supervisor is given a dashboard, where he can add team members to the system. These employees can then begin clocking in and out, with supervisors able to manage and oversee the process from their own PCs or mobile devices. If an employee forgets to punch in or out, that employee can easily fix it by telling the system what time he actually began or left work. All of this is tracked by Buddy Punch, with a history of each transaction accessible to the supervisor.
Benefits of Using Buddy Punch
With a colorful, simple interface, Buddy Punch makes time management fun and easy. Because each transaction is time and IP stamped, businesses can track which clock-in came from which device. At any time, a supervisor can access an overview of everyone who is clocked in and how many hours and minutes they've been working.
Buddy Punch also makes payroll easier, with all information included in reports that are automatically updated as needed. All of these reports are pre-populated, eliminating the need to waste time customizing reports.
The Basics: What Does It Look Like?
After login, the system walks the user through setting up the administrator account.
Administrator setup account
Once all new employees have been added, the user will see them listed on his dashboard, either under "currently punched in" or "currently punched out."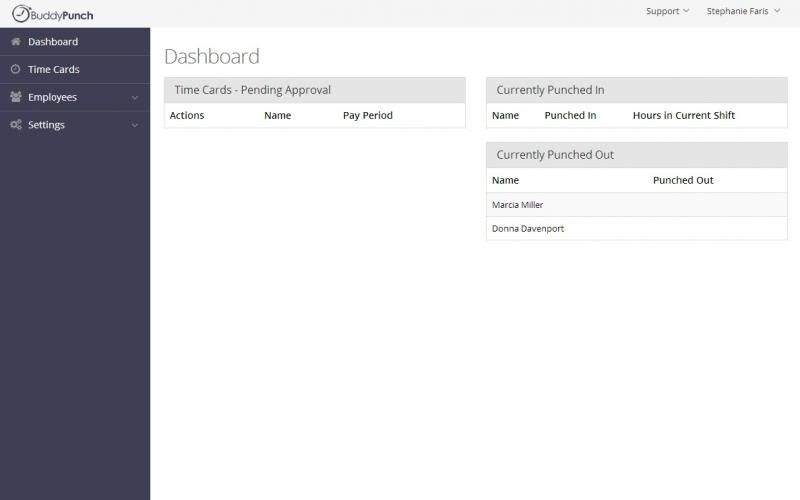 Dashboard view
From the web browser on any mobile device, PC, laptop or tablet, the employee simply enters app.buddypunch.com and inputs his email address and password. From here, the employee can punch in or edit existing time.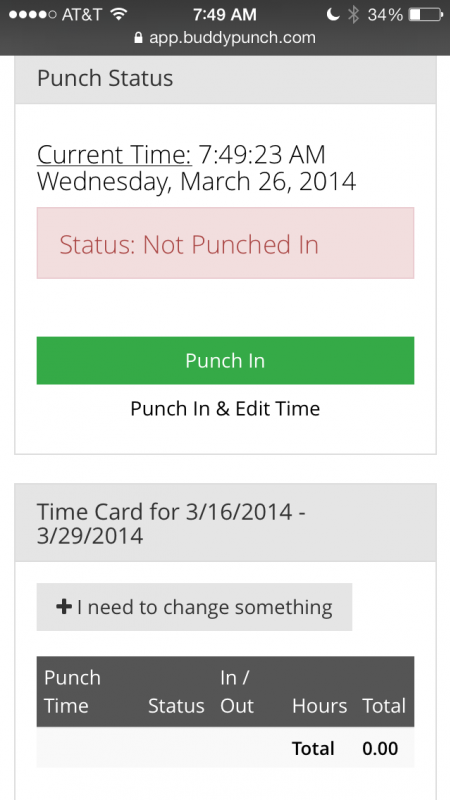 Mobile punch in interface
Once punched out, a detailed list of the hours worked during the current pay period is displayed. To edit entered time, a user simply chooses "I Need to Change Something."
Mobile interface after having punched out
Support Information
Users can access help through Buddy Punch's knowledge base, FAQs, and how-tos, as well as getting personalized support through a web form in the support section of the site.
Pricing Information
After a free 30-day trial, a basic plan is $25 per month, which covers up to 14 employees. Plans include 15-29 employees for $50 per month, 30-59 employees for $75 per month, and 60-99 employees for $100 per month. Customized pricing is available for businesses with 100 or more employees.
Buddy Punch Review - The Bottom Line
For small businesses seeking an easy way to allow employees to clock in and out, Buddy Punch is a great option. With affordable plans and compatibility with both iOS and Android devices, this solution will work for most businesses without requiring hardware purchases or costly and time consuming software updates.
Ratings: ease of use 5/5, features 3/5, value 5/5