BuiltWith Pro Review – Behind the Scenes of Today's Hottest Websites
by Stephanie Faris
Published on 2 December 2013
BuiltWith Pro Review - In-depth information on today's web development trends
Have you ever wondered about the technology that powers the most successful websites? Chances are, if you have a site of your own, you've looked at those sites to try to determine how they were built. Were they created using WordPress? What analytics are they using? This information can provide important insight into today's web development trends. BuiltWith Pro has found a way to extract this information and present it to users. This BuiltWith Pro review will demonstrate the app's features and explain how it can help both businesses and website developers.
BuiltWith Pro Review - About the Product
Consumers are regularly asked to input information into web forms with no idea what technology is lurking behind the scenes, threatening to collect and disseminate that information. Founded six years ago, BuiltWith Pro takes the mystery out of corporate websites, examining the code and providing information about programming software, analytics services, social media feeds, and more. This information can be used to uncover trends in the industry, help developers learn more about the technology being used by the competition, or simply provide insight into what successful businesses are currently doing.
Main Functionality of BuiltWith Pro
Users set up parameters that determine the information they'll receive from the more than 192 million active websites BuiltWith is currently tracking. The technology can be used to power lists of certain sites for lead generation purposes or set up weekly updates on customer behaviors, market share increases, or which websites have moved from one competitor to another.
Benefits of Using BuiltWith Pro
BuiltWith Pro's customizability means each user can adjust the app to fit his or her specific needs, whether they're conducting research on the industry or keeping up with the competition. The service can provide historical data on the competition, as well, going all the way back to January 2011.
The possibilities for studying industry-wide trends are enormous, with the ability to see what technology is being utilized and underutilized today. A graph posted on Techcrunch, for instance, showed the number of sites with embedded Adobe Shockwave Flash technology has declined from 13.71% in January 2011 to 9.88% in February 2012.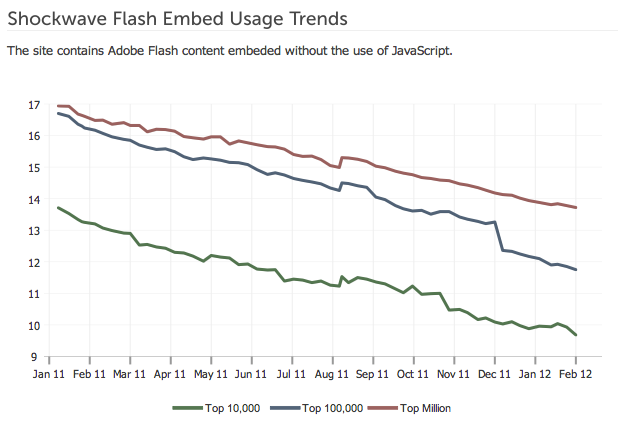 Shockwave trend
The Basics: What Does It Look Like?
When you first log in, you'll be taken to your dashboard. Choose "Create a Report."
Dashboard
Choose the type of list you'd like to create. We're going to choose Web Technology Based List to tell us the types of technology being used by websites.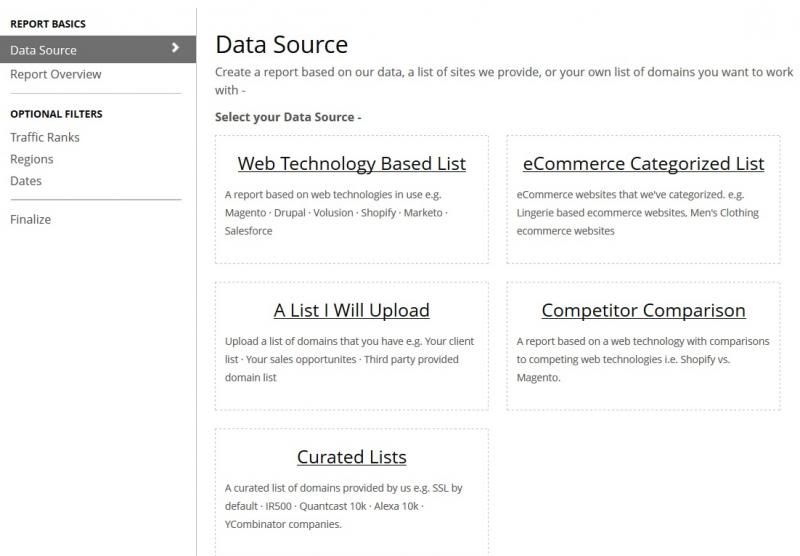 Choosing data sources
Type a specific technology into the search box. We're using Magento. Once you enter a search term, you'll be given a list of choices.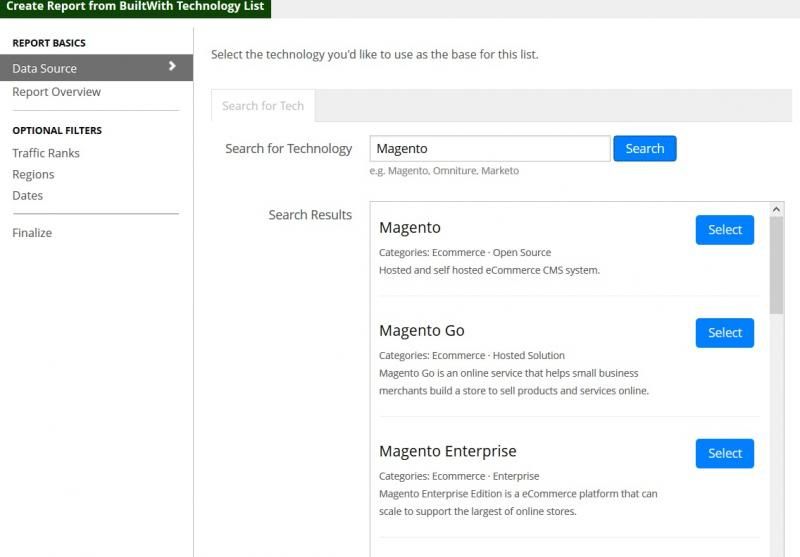 Creating reports
Before finalizing your report, you can add filters to see results by region, traffic rates, or dates. Choose "Finish."
Getting reports
You can view the information in list form or separated out by market share, business locations, and other data.
Lists
Market share pie chart:
Market share pies
Support Information
Support is available through an e-mail form, direct e-mail contact, or phone via long-distance call to Australia.
Pricing Information
The basic version of BuiltWith costs $295 a month, which includes up to two base technology reports and up to two eCommerce categories. A pro plan, which is BuiltWith's most popular plans, costs $495 per month and covers up to ten base technologies and up to ten eCommerce categories. For an unlimited plan, businesses will want to upgrade to the enterprise plan, which costs $995 per month.
The Bottom Line
BuiltWith is a robust application that provides transparency to today's technology. This stands to revolutionize the way we do business today as experts gain insight into the applications being used to power the world's best websites. It may also provide major software providers insight into which sites are using their technology, prompting them to make changes or focus on developing technologies to meet current needs.
Ratings: ease of use 4/5, features 4/5, value 3/5