CakeMail Review – Design Custom Emails
by Stephanie Faris
Published on 13 March 2014
CakeMail Review - An easy way to send professional emails
Businesses that are still sending newsletters and marketing emails using their email clients instead of using cloud-based email marketing software to generate graphics-rich, information-heavy content that engages customers, risk appearing behind the times.
CakeMail is an easy-to-use program that allows businesses to design and send professional emails and track their results. This CakeMail review shows how easily a user can design and send emails using the app's online interface.
CakeMail Review - About the Company
Based in Montreal, CakeMail was founded in 2007 by Steve Smith and Francois Lane. Both founders are still heavily involved in the software, with Lane serving as CEO and Smith leading channel and business development. Originally, the app was sold exclusively to resellers but in recent years, CakeMail has grown in popularity among businesses around the globe.
Main Functionality of CakeMail
Simplicity is the number one goal of CakeMail. With the app, a user can quickly upload a list of contacts, create a campaign and send emails to his list in just a few clicks.
A library of free templates is available to allow business owners and marketing professionals to quickly create an attractive email or newsletter. Users can also design their own emails or import existing templates for use with the system.
Benefits of Using CakeMail
With a variety of professional-looking designs, CakeMail gives users the tools they need to create sleek marketing campaigns that rival those of the biggest companies. Once an email has been designed, it can easily be deployed to a list of contacts immediately or be scheduled for later.
CakeMail also provides easy contact list management and makes it easy to add new contacts. At any time, users can view the history of a specific contact, determining past email campaigns that have included that particular customer or client. Sign up that encourages customers to sign up for future mailings are provided for free, and include automated welcome and confirmation messages that can be edited to suit the account owner.
Once a campaign has been sent, businesses can track its success through CakeMail's reporting feature. The app tracks which customers opened an email, clicked on a link, or unsubscribed. If an email bounced, CakeMail will have that information, as well, making it easy to update contact lists.
The Basics: What Does It Look Like?
When you first login to CakeMail, you're taken to your list of subscribers. By clicking on the drop-down box, users can toggle between subscribers, those who have unsubscribed, and invalid emails.
Dashboard
To create a new campaign, a user needs only to click on Create Campaign in the top left corner. On that page, he can choose a new template, find a previously-used template, or upload or paste an existing email design. Clicking on a template chooses that one.
Creating a new campaign
Once a template is chosen, the user is redirected to a page where design can begin.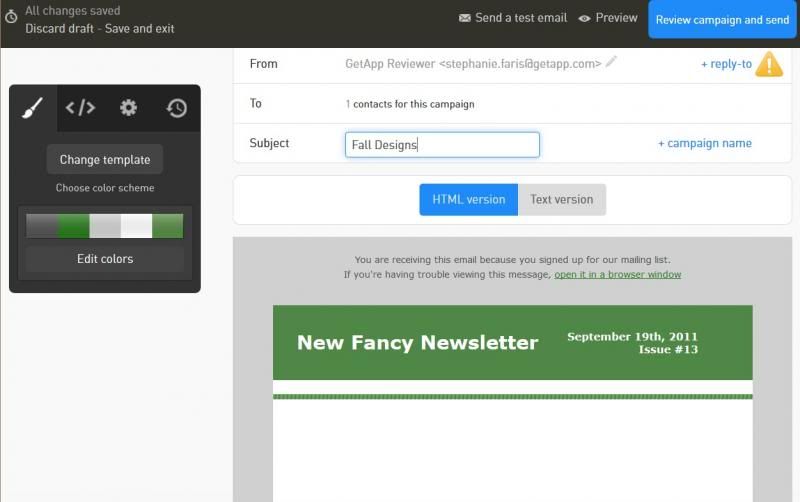 Design window
Once the design is complete, clicking on "Review campaign and send" directs the user to a screen where he can either send the email now or schedule it for later.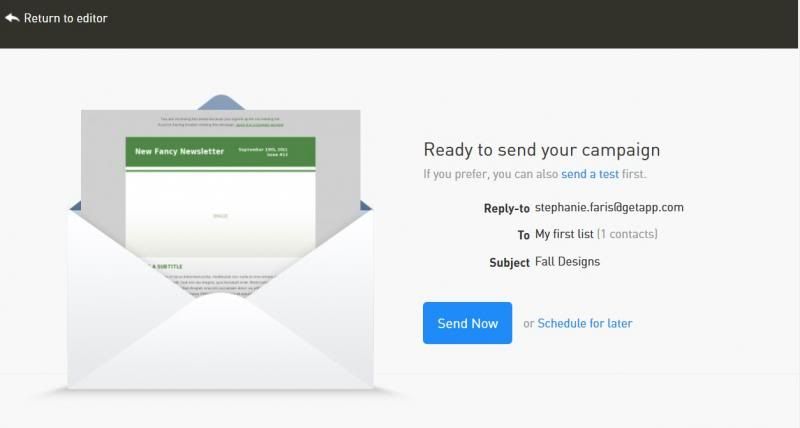 Send or schedule window
Support Information
CakeMail offers a ticketing and chat system through which customers can get help.
Pricing Information
For businesses that don't mind a CakeMail logo at the bottom of each email, the plan is completely free. Up to 12,000 emails can be sent each month on the free plan and there is a limit of 2,000 contacts.
Paid plans start at only $8 per month, removing the CakeMail logo and an unlimited number of emails. To get more contacts, a business will have to pay more for a monthly plan.
CakeMail Review - The Bottom Line
CakeMail makes sending attractive emails easy. While there are more robust email template programs, CakeMail's price makes it a winner for businesses on a budget.
Ratings: ease of use 5/5, features 3/5, value 5/5