Cezanne OnDemand Review – Manage Employees in the Cloud
by Stephanie Faris
Published on 12 November 2013
Cezanne OnDemand - Full-service HR Automation for all Businesses
Managing performance and tracking leave for employees can be a challenge for mid and smaller-sized businesses - especially those that operate on an international basis and don't have the deep pockets and added HR resources of larger businesses. Cezanne OnDemand is a cloud HR system that offers leave management, performance appraisal administration, international capabilities, inbuilt alerts, workflow, document sharing and collaboration, and more.
This Cezanne OnDemand review will explore the app's many features to help businesses determine if it fits their needs. We'll detail how Cezanne OnDemand can save your team time and money by not only automating processes, but by providing a platform to enable employees to work together more productively wherever they are.
Cezanne OnDemand Review - The Company Behind
The company Cezanne HR is the developer behind Cezanne OnDemand, a product that is designed to help businesses manage people…the lifeblood of any organization. By automating HR processes and triggering reminders, businesses reduce time and help employees work more productively. By storing information in one central location, business owners and HR professionals can more easily track employee information and improve overall operations. By supporting global HR, Cezanne HR helps companies operate more effectively wherever their employees are.
Main Functionality of Cezanne OnDemand
Cezanne's HR software has several different modules to cover every facet of a business's HR operations. Those modules are:
People Management-Cezanne OnDemand provides an easy, secure interface to store current and historic information on employees, including hire dates, compensation and benefits information, emergency contact information, training and development, and more.
Absence Management-Businesses can set up multiple leave allowances to fit their own organization, including rules about holiday accruals and carry over as well as local calendars and allowances. Employees can request leave for approval ahead of time, with both supervisors and workers notified when requests and approvals are made.
Performance Management-Regular performance feedback is crucial to team moral. Cezanne HR helps simplify the process, allowing the creation of multiple planning and appraisal templates, that can be routed through different review processes depending on the requirements of the business. The system supports SMART objectives, and provides a number of configuration options around the types of questions that can be asked and rating scales.
HR Portal and Social Workspaces-Businesses are increasingly realizing the value of Cloud-based collaboration, which improves communication and helps projects flow more smoothly. Cezanne OnDemand allows workers and managers to make us of online workspaces where they can upload documents to share with others, post comments and invite feedback. Company-wide alerts and announcements can also be posted to give employees one central place to get information.
HR Analytics and Organization Charting-For supervisors and business owners, reports on HR issues can provide valuable information on the state of a business's workforce. Which employees use the most sick leave? How many employees are skilled in a specific area? Subject to security permissions, authorized users can also use the reporting section to compile and export lists of all of your employees, filtering out employees by location, hire date, safety issues, and more.
Benefits of Using Cezanne OnDemand
Cezanne OnDemand is a great way for businesses to keep track of employees, while also ensuring workers are more engaged and more productive. By automating processes and taking HR online, managers rid themselves of unnecessary admin overheads and workers are able to manage their own data and help themselves to the information they need. Time and attendance is planned for 2014. Right now the system supports booking time off.
With its extensive features, Cezanne OnDemand has everything small and mid-sized businesses need to handle human resources matters.
The Basics: What Does It Look Like?
When you first login to Cezanne OnDemand, you'll be presented with the HR dashboard.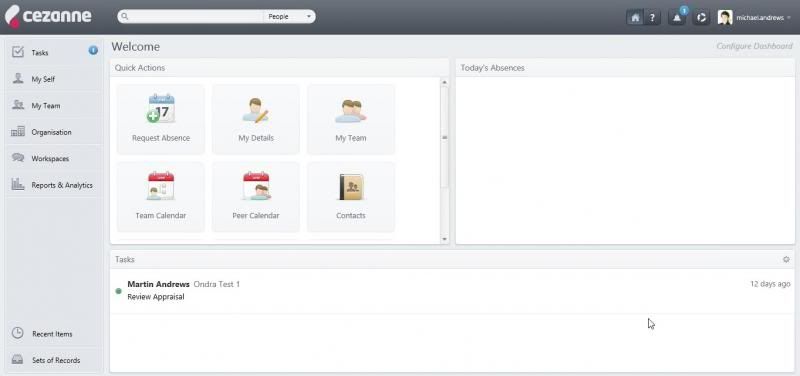 Dashboard
HR personnel and line managers can configure their dashboard to display the information they most need to see on a daily basis.
Dashboard configuration
Employees have the ability to request holiday or other absence. Once requested, the system will send a notification to the supervisor to alert for approval.
Holiday request
At any time, an employee can access an overview of all leave requests to determine which have been approved and which are still outstanding.
Leave overview
To add a new worker, HR simply fills out the form fields in the "Add New Starter" section.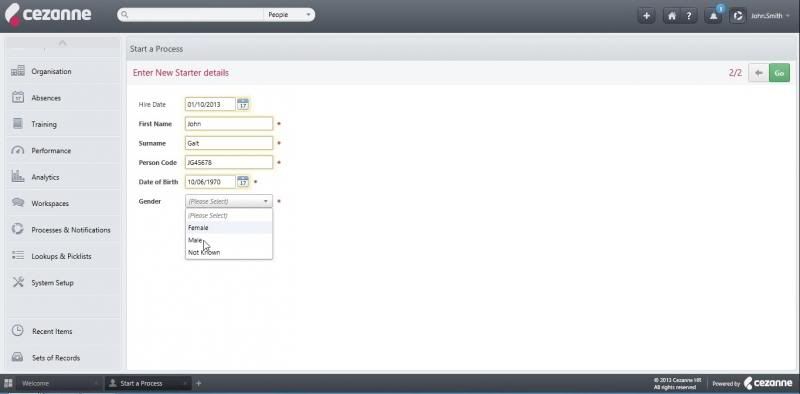 New strater
By popular demand, Cezanne OnDemand added a social media component. This area of the site allows workers to post status updates and share documents.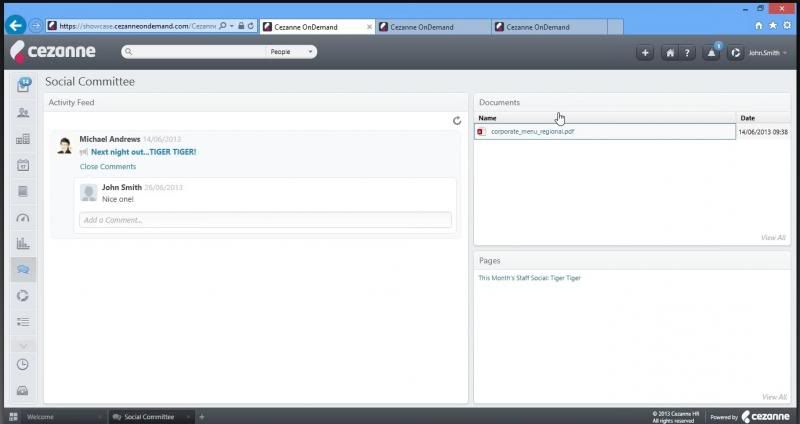 Social media
If an employee wants to join a community in which he/she does not already hold membership, that employee can join by clicking "join workspace" and awaiting approval.
Support Information
Cezanne OnDemand has a secure support portal where users can log an issue and follow the status of that issue through to resolution. Questions can also be e-mailed. Once the question has been received, the support team will respond via the portal, with automatic email notifications letting customers know that their issue is being answered. The support team is currently only available for English-language support during U.K. business hours (9:00 a.m.-5:30 p.m. Monday-Friday), but the company plan to extend support hours in 2014 to provide better coverage for US customers. A knowledge base is also available that answers many common usage questions.
Pricing Information
Cezanne OnDemand offers three modules, People (which includes social workspaces) and is the core module, Absence and Performance. The core module) cost £1/$1.50 per employee per month, with the additional modules £1/$1.50 each. The good news is, if a business has an increase or decrease in the number of employees, Cezanne HR will automatically adjust the monthly fee. Available translations (English, Spanish, German, French and Portuguese) are provided for free. There is a minimum monthly charge.
Companies wishing to evaluate Cezanne OnDemand are typically offered an online demo initially.
The Bottom Line
We have seen with this Cezanne OnDemand review that the system has made full-service HR automation accessible to even the smallest businesses by providing it for an affordable price. For the price, the features offered in Cezanne OnDemand can help small and mid-sized businesses operate at efficiency levels usually only seen in large corporations with full HR departments.
Ratings: ease of use 5/5, features 5/5, value 4/5