Ciiva Review – Innovative Bill of Materials Management
by Stephanie Faris
Published on 4 November 2013
Ciiva Review - Automating bill of materials processes
Transferring parts among different companies including designers, manufacturers or suppliers and organizing bill of materials across multiple users within a company can be a time-consuming process when done manually. Ciiva seeks to automate the process, allowing for better organization and always-updated information on parts that are in stock, on order, or in transit.
This Ciiva review looks at the app's real-time collaboration capabilities, search functions, and more to help customers determine if it is the best software to meet their needs.
Ciiva Review - About the Company
Collectively, Ciiva's founders have 70 years of experience in embedded and automotive electronics. This experience has given Ciiva in-depth insight into the industry, helping them create an app that makes component data management easier.
Main Functionality of Ciiva
Suppliers and manufacturers can upload parts into Ciiva's cloud database through the Ciiva website at no charge. Once entered, a part can be tracked throughout its lifecycle to provide valuable insight into how long each part is lasting.
Ciiva considers itself as a solution that provides two separate components: an online component search engine, called Ciiva Online Search, and collaborative bill of materials management software, called Ciiva Client. The Cloud-based nature of the app allows its database to be constantly updated with the latest information on components from a wide range of suppliers and manufacturers.
Benefits of Using Ciiva
Through its interface, Ciiva brings together information that was not previously available in one place. Instead of researching multiple sources to find the best price or the highest-quality part for a device, automobile, or other product, with no way of easily knowing if any changes have been made to that part that might impact the integrity of the item they're building or repairing. Because every item used in a Bill of Materials is linked to one component library to avoid errors and ensure everything runs efficiently.
The Basics: What Does It Look Like?
While Ciiva provides software for accessing databases, users must first set up those databases on the website. After setting up an account and logging in, users are presented with the database management screen.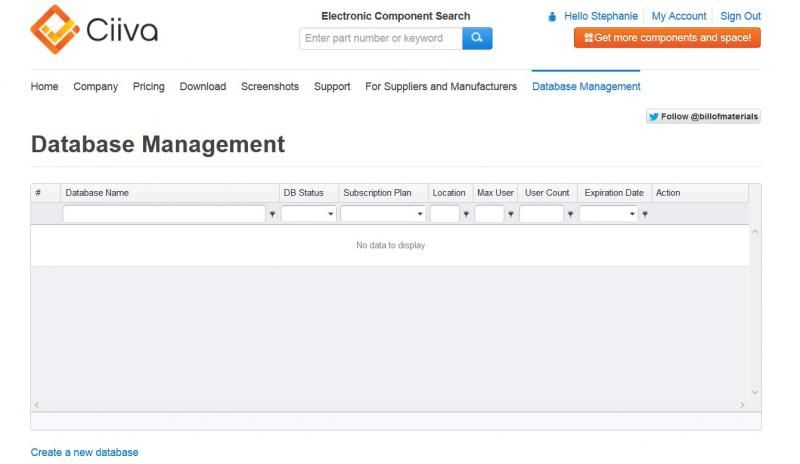 Database management
Once the user is set up, Ciiva provides a searchable database where users can see, at a glance, information such as pricing, lead-time, and availability.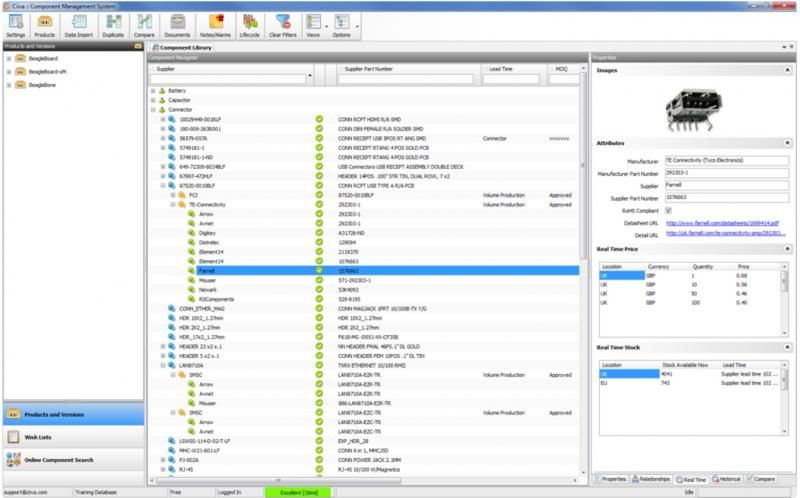 Database
Perhaps the biggest benefit of Ciiva is the ability to search the massive database of information found in the Ciiva Cloud. Even better, these components can be added directly to the component library. Graphs on the right provide both historical pricing data and historical stock levels.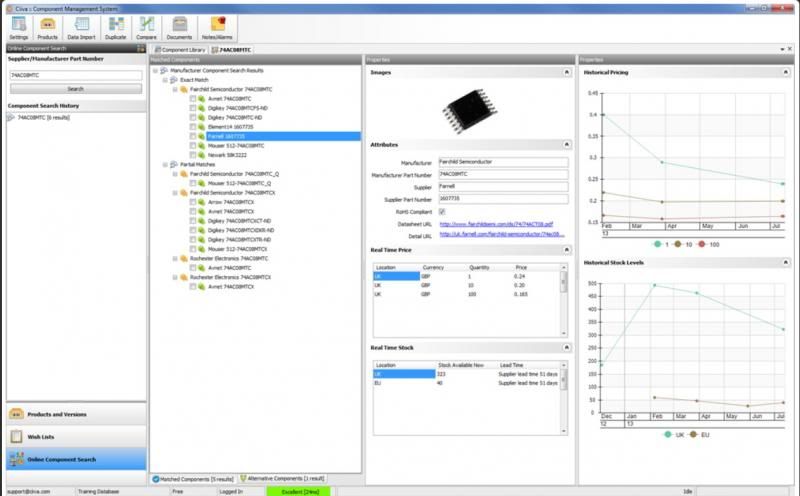 Graphs
Users can see the pricing for the same product across various suppliers to find the best deal possible.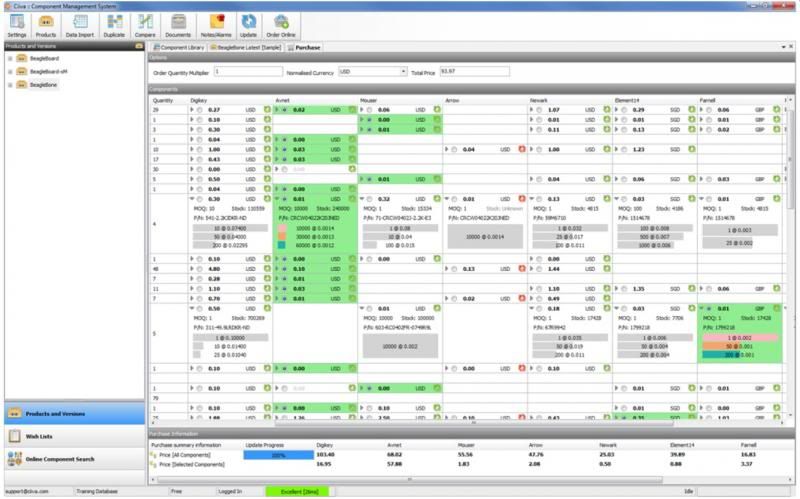 Pricing information
Ciiva provides an import tool that allows a Bill of Materials and component data to be easily added to the system.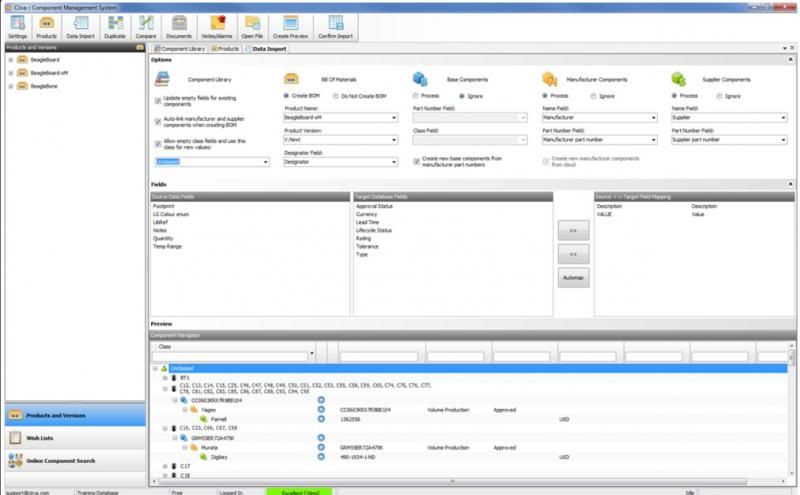 Import tool
Support Information
Ciiva provides technical support through e-mail.
Pricing Information
A limited version of Ciiva is available for free, but the free edition only provides access to three users, with a limit of 10,000 components. Only 5 GB of storage is allowed on the free version, as well. A pro monthly subscription costs 10 Euro per user each month but provides unlimited components and up to 10 GB of storage. Users can save money on the pro plan by paying an annual fee of 100 Euro per user per year.
The Bottom Line
We have seen in this Ciiva review that the tool can automate a process that has previously been very cumbersome. With a free plan, the value to limited users is undeniable. For novices, the interface may be initially daunting, but with the point and click help feature, users can soon become familiar with the various controls and features. Once a user is set up, however, Ciiva can help organize a business's Bill of Material management to save money by increasing productivity.
Ratings: ease of use 4/5, features 4/5, value 5/5