Helping Customers Made Easy With Instant Chat Features — Review of ClickDesk
by Michele Nachum
Published on 14 September 2012
Help desks have become more popular these days as more customers expect instant gratification from their vendors.
In addition, as more people hunt around for products and services on websites, having the ability to live chat with an agent is a plus for both businesses and customers. But for a long time, many smaller businesses thought that the ability to have a "help desk" with live chat options meant expensive. It meant you needed a full crop of agents 24/7 and it dictated that you would have to implement a difficult ticketing system. But nowadays, small businesses don't have to over think having a help desks as there are many solutions out there online that provide "lighter" features, less complications and more affordable pricing.
And that is where a solution like ClickDesk comes into play as it bills itself at the "liter" help desk application.
What Does It Look Like?
ClickDesk is one of those "easy breezy" help desk applications that is actually so easy - you might wonder if this is for real. But they are. On the back end there is some amazing programming but as either the small business owner or customer - you won't really notice. What you will see is that ClickDesk does a good job easing you into the help desk mode with "light" features. Although ClickDesk is in the cloud, you don't have to worry about downtown as the system is reliable and has a 99.5% up-time.
ClickDesk has an easy sign-up process and then right away it guides you as you go. The first step is to add in your Live Chat feature/widget to your business website. Don't worry - that part is fairly easy as it is a matter of cutting and pasting some code from ClickDesk to your site. You also have the ability to dress up your Live Chat interface with photos and color schemes (which is so fun to do).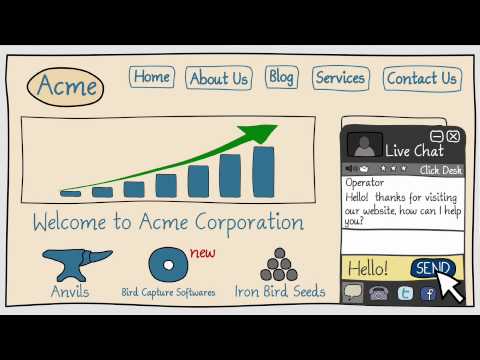 Operators And Live Chat Options
Next you need to assign your "operators" or agents so they may help your customers. Many smaller businesses do not have a slew of agents at the ready - it may be one or two or ten - either way, that part is very easy as well. Live Chat can be configured with your Skype or Google Talk account and you can also provide live help to customer queries through Skype from desktop, laptop, or your mobile device. The chats are "lightning fast," according to ClickDesk, backed by push technology on your IM. You can also have customers contact you through an integrated browser phone that includes free local access numbers in 40 countries.
What I liked about ClickDesk is that it offers businesses an affordable and simple way to "speak" with customers on a one to one basis - and one should never underestimate the value of these chats and the feedback customers can provide. While you may sign up for ClickDesk for the ability to better help your customers, you will find their feedback just as helpful.
Interfacing with your customers can offer great insight into what your customers are thinking. In order for you to keep records of your conversations, ClickDesk will save all of your customer information so you may have a record or transcript of your customers and their inquiries. This can help as you later go back to do customer outreach marketing. The only thing I didn't see in ClickDesk is analytical reports, which many help desk solutions do offer, usually to show you average customer wait time and other valuable data to help you to continue to improve your help desk.
Like or Tweeting:
Another very cool feature of the live chat tools that ClickDesk offers is that your customers can tweet or "like" your Facebook page from the chat window. This is ingenious as the more tweets and likes the better SEO your customers can generate for your business website.
Short Cuts:
Another beneficial feature are "shortcut" messages. These are essentially canned messages you can use anytime you want to communicate with customers - such as "An agent will be with you shortly," "thank you for visiting our site," "welcome to our site" or answers to an FAQ on your business website. This is typical of all help desk sites and allows your team to "help" customers even when no individual is available.
Ticketing System:
ClickDesk also now offers a "ticketing system." This is an essential part of most help desk software programs - as customers can "sign up" for help and a ticket will be assigned to help them. As the agent works with the customer, you can then keep track of what the issue was, how quickly it was resolved and other important of aspects of customer relations. Another nifty feature is that the system will "IM"you when a customer signs up for a ticket (so no excuse not to help them ASAP).
Plug-ins:
Admittedly ClickDesk is a "light" help desk application and as such there may be more powerful tools you can add to your ClickDesk account so you can tailor your ClickDesk accordingly - which is actually very smart. They range from ZenDesk, a very powerful help desk solution that can start where ClickDesk leaves off , including a very in-depth ticketing and data system. CRM tools such as Sugar can help you manage all of the customer data you gather from your ClickDesk interactions.
Is In Your Budget?
ClickDesk is affordable and has multiple pricing plans. You can try it for free for "30 chats" a month, but unlimited chatting plans are available in the paid subscriptions at either 9.99 or $14.99 per month. Both paid subscriptions offer customization for live chats as well as a host of other features. However, the ability "to integrate" or plug in ZenDesk or Sugar, for instance, comes with the $14.99 subscriptions.
Is it for You?
For a "light" help desk product, ClickDesk offers numerous features to help you get started. While more robust help desk features will enable you to set up complicated ticketing systems and FAQs, online communities and the like, ClickDesk gives you a smattering of all it . This is a product for those who want a bit of "help desk" but not too much. The tools are easy to use and will help you navigate through the complicated world of customer relationships.
Ratings: ease of use 5/5, features 4/5, value 4/5 and ease of deployment 5/5