Clickthroo Review – Landing Pages Designed to Convert
by Stephanie Faris
Published on 5 February 2014
Clickthroo Review - An attractive interface to create landing pages and reports
There are a wide variety of tools to help businesses create professional-looking landing pages. But businesses today demand more from their websites. Information on click-thrus and conversions is crucial to moving forward with marketing plans.
Clickthroo combines a drag-and-drop landing page development platform with full reporting functionality and visitor segmentation/ personalization all using their proprietary auto-optimization engine. This Clickthroo review will explore the app's website creation and reporting tools to show businesses how the app can help with marketing efforts.
Clickthroo Review - About the Company
Clickthroo was founded in 2011 to address the reporting needs of marketers in all industries. The app's founders realized the difficulties encountered by online marketers when they try to develop, deploy, and track the success of a website, especially in the areas of split testing, traffic segmentation, auto optimization, and more. With Clickthroo, businesses are able to design a website with analytics in mind, boosting ROI through awareness.
Main Functionality of Clickthroo
After login, Clickthroo helps users easily design a campaign that centers around a landing page. Elements like forms and text content can be dragged and dropped into the editor to easily create a landing page. But what sets Clickthroo apart is its ability to segment traffic, ordering it by keywords, traffic sources, and more. From the time a user first logs into Clickthroo, the system helps connect the amount of money being paid for each click to the clicks coming through on a landing page. This allows for reports that show up-to-date details on the ROI a business is getting.
Benefits of Using Clickthroo
Using Clickthroo's easy-to-use landing page builder, users can create auto-optimized pages that track click-thrus, conversions, and more. With its variant weighting feature, Clickthroo makes split testing easy, letting users set percentages for reporting on each variant. Because traffic can be filtered by keywords, businesses have more detail than ever to help inform their future campaigns.
The Basics: What Does It Look Like?
At login, a user is taken to his dashboard, where he can create his first campaign.
Dashboard
Here you can set up details about your campaign, including whether or not you want to use your own domain or be assigned a Clickthroo domain.
To help Clickthroo determine ROI, you'll need to enter details about the average price you're currently paying for your campaigns.
The next step is to create your landing page. There are dozens of templates to choose from on this page, with the option to filter for full-page, windowed, or mobile templates.
Once a template has been chosen, the user is directed to the landing page editor. To add elements, a user only has to drag and drop them into the editor.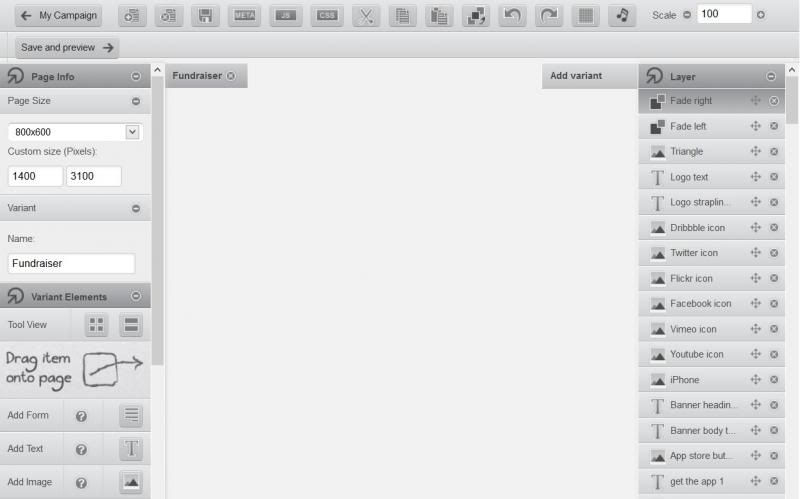 At any time, a user can view his site's traffic by going to the "My Campaigns" section. This takes the user to a dashboard of all current campaigns.
Clicking on "Variant Weighting" in the upper right-hand corner lets the user adjust a landing page to show it a certain percentage of the time when compared to other campaigns.
On the campaign overview dashboard, a user can also view reports that can be sorted by traffic sources, variants, and more.
A user also has the ability to see live reporting, for a view of what is going on with a landing page in real time.
Support Information
Clickthroo provides support through a ticketing system and email/phone support for all subscribers. Users submit a ticket and receive a response a short time later. While waiting, users can check the status of tickets through that same ticketing system. Users who purchase Enterprise plans also have access to live help and unlimited Skype support.
Pricing Information
Prices start at $95 per month, which covers sites with up to 20,000 visitors per month. This plan is limited to two campaigns per month, with a $395 per month plan covering up to ten campaigns. Enterprise plans begin at $695 per month, covering 100,000 visitors and offer campaign set-up, unlimited team training, ongoing consultancy and Skype support.
Clickthroo Review - The Bottom Line
Clickthroo provides an attractive, professional interface that allows users to create landing pages connected to reporting. Although there is a bit of a learning curve with the app, Clickthroo provides team training to new customers that explain the app's many features in detail.
Ratings: ease of use 3/5, features 5/5, value 4/5