Decibel Insight Review – Advanced Website Heatmapping and Analytics
by Stephanie Faris
Published on 26 February 2014
Decibel Insight Review - A unique solution with an innovative approach to analytics, offering advanced data visualization and heatmap views
Data is an important part of doing business today, but businesses are challenged to harness all of the information available to them and put it to use. Their own websites collect data each day, but general analytics only provide basic information.
Decibel Insight takes website analytics software to the next level, using heatmapping technology to show marketers and website managers/administrators which areas are getting the most attention and generating the best results, more importantly. This Decibel Insight review will show how the app can help businesses improve the user experience on their websites using sophisticated heatmaps.
Decibel Insight Review - About the Company
Decibel Insight is a London-based company that offers a highly advanced set of heatmaps for web analytics. This helps marketers and website managers/administrators to easily identify areas of a site that are seeing positive or negative activity so they can refine the user experience.
Main Functionality of Decibel Insight
Decibel Insight uses a patent-protected technology to determine customer activity on a web page. The company has refined the technology to combat several problems, such as concentrated activity in a small area of a site that may be hard to see. Decibel Insight's Interaction Heatmap view turns each button into an asset and highlights interaction by volume of clicks, rather than a spread of dots.
Benefits of Using Decibel Insight
Users have access to multiple types of heatmaps, each bringing its own advantages.
Dot maps-Through dots overlaid on a page, these maps show which areas of a site are getting the most clicks. The larger a dot becomes, the more that area was clicked.
Interaction maps-Using chunks of color, these maps highlight general areas of a page that are getting the most clicks. These heatmaps also work on drop-down buttons and banner carousels.
Value maps-This feature scores areas of a site, using monetary values when possible to give site administrators an idea of which areas are converting the most.
Reach maps-These heatmaps determine how far down a page a visitor is getting to let businesses know whether content in the center or bottom of a page is being seen.
Attention maps-With attention maps, color coding shows how long visitors spend looking at different sections of your page.
Time maps-Businesses need to know what times of day and days of the week customers are visiting their site so they can schedule their campaigns. Decibel Insight provides this information.
The Basics: What Does It Look Like?
This illustration using Decibel Insight's website shows how dot maps work. The only problem with this view is that if an item is small, it might be difficult to see whether it was the item being clicked or another item around it was getting the attention. Also smaller boxes can go red when actually much larger buttons are getting more (distributed) clicks.
Dot map heatmap
Through the Interaction heatmap, the site administrator can easily see that the video player was the area that was actually getting the most clicks.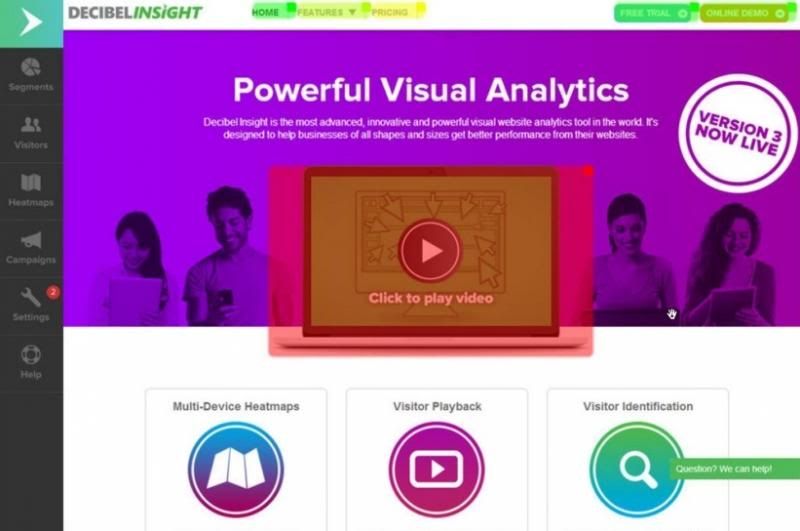 Interaction heatmap
Through the value maps, users can see the monetary value of conversions based on specific clicks.
Value heatmap
The reach maps show how far visitors are getting down a specific page before clicking away.
Reach heatmap
With attention maps, visitors can see which sections of a page are seeing the most activity.
Attention heatmap
This demonstration of time maps shows how Decibel Insight shows time and day of week information about site visits.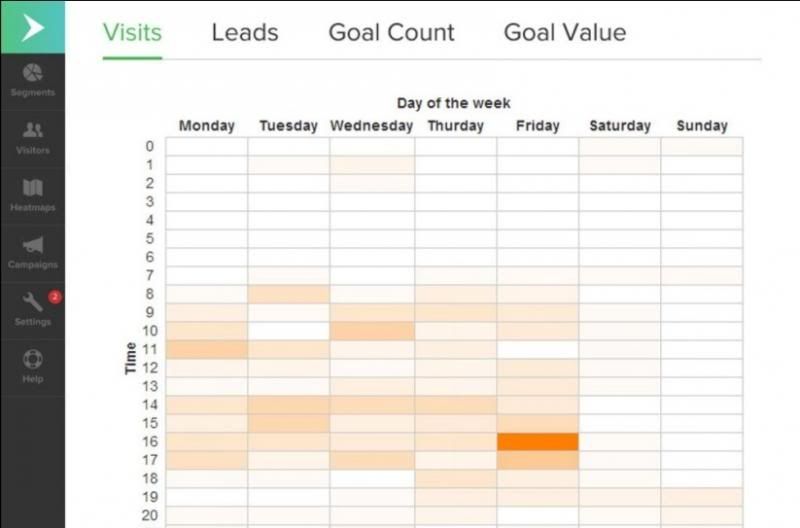 Time heatmap
Support Information
Online support is available for all plans.
Pricing Information
Plans start at £25 per month.
Decibel Insight Review - The Bottom Line
Decibel Insight's innovative approach to analytics makes it unique, offering specific data visualization and advanced heatmap views that other solutions normally don't offer. If you'd like a better understanding of your website user experience and intuitive, easy-to-use tools that will talk you through the changes that need to be made to increase conversions, it's definitely worth considering.
Ratings: ease of use 5/5, features 4/5, value 3/5