FG Receivables Manager Review – Organization Tool for Accounts Receivable
by Stephanie Faris
Published on 18 December 2013
FG Receivables Manager Review - Accounts receivables with intelligence
For businesses, keeping track of invoices and payments is extremely time consuming. Invoices can easily fall through the cracks if a business isn't extremely organized. Funding Gates Receivables Manager seeks to organize the process for businesses of all sizes. This FG Receivables Manager review looks at the platform's features to demonstrate how it can help a company organize its payment collections processes.
FG Receivables Manager Review - About the Company
Headquartered in New York City, FG Receivables Manager specializes in improving the accounts receivable management process. By automatically monitoring customer accounts, FG Receivables Manager provides an intelligent solution that helps keep a business's accounting department on track. Because it integrates with all versions of QuickBooks from 2009 forward, FG Receivables Manager can help accounting personnel avoid double entry, freeing up time they can spend on other efforts.
Main Functionality of FG Receivables Manager
Getting paid for work performed is a top priority for businesses, but keeping up with who has paid and who hasn't can be a full-time job. FG Receivables Manager helps businesses record and track all conversations, and determine which clients have let the most time lapse without a response. Through a reporting module, businesses can also pinpoint clients who are habitually late, as well as pull up a report of payments that are overdue. With just one click, businesses can send professional payment reminder letters to clients that improve the likelihood of getting a response. Each letter is logged in the system to allow businesses to see the last date of communication. If this attempt still fails to get a response, the company can turn the customer over to collections directly from the app.
Benefits of Using FG Receivables Manager
FG Receivables Manager takes the discomfort out of repeatedly asking customers to pay what they owe. The application provides professional invoices and communications that make even the smallest companies appear as though they are large corporations. This puts distance between the company and its late payees to allow the business to tend to the business of getting paid.
The Basics: What Does It Look Like?
At initial login, an administrator is presented with a dashboard that displays the overall number of customers, the total number of open invoices, outstanding and past due amounts, and the amount of money tied up in collections. From this screen, administrators can also view information on specific clients, along with a button to call or send reminders to those clients directly from the main screen.
Welcome
With the Priority Aging Report, also on the main page, businesses get an overview of the number of accounts that are fully current, due, and overdue with financial totals for each.
Reporting
Days overdue
For each aging bucket, businesses can also see a prioritized list of customers that fall into that bucket.
Clicking on any of these customers takes users to a screen with more details.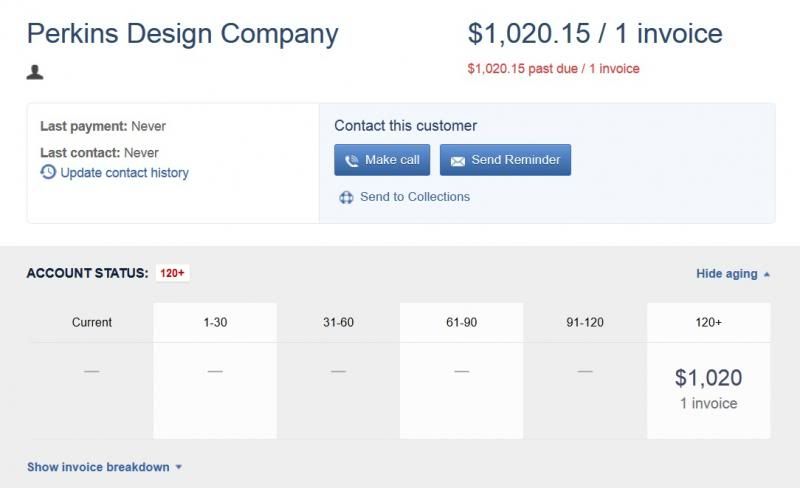 Clients data
At the bottom of this same screen, users can access an invoice breakdown and an account history for the customer that includes all the activity and communications log for that customer.
Account status
By clicking on "Customer" from any screen, a user can filter customers based on their own criteria, as well as searching for specific customers by company name.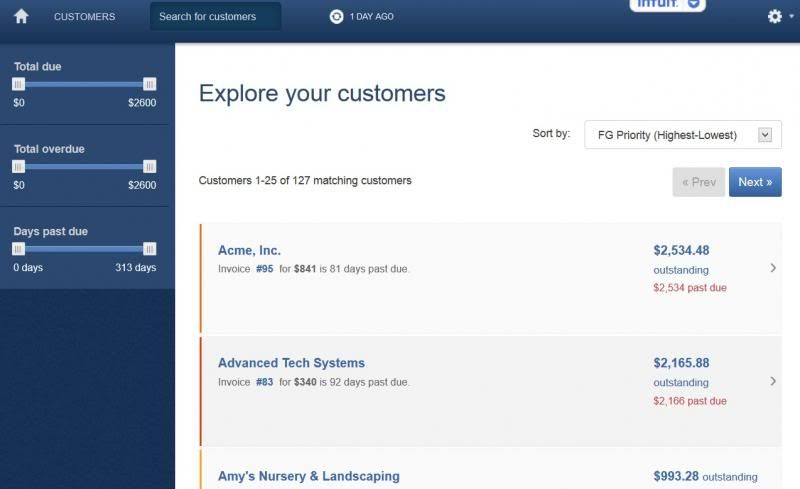 Custonmers
Support Information
FG Receivables Manager provides phone support, live online chat support and a wide variety of videos, bootcamps, and other tutorials to help customers with its service. Funding Gates customer support is open during US business hours (EST).
Pricing Information
A free account includes the ability to manage up to ten customers, daily account monitoring, customer contact history, and more. To manage unlimited customers, businesses will need a plan that pays $19-$29 per month. Plans that include Quickbooks consulting and basic receivables coaching start at $29 per month.
FG Receivables Manager Review - The Bottom Line
FG Receivables Manager wraps high functionality into a simple, easy-to-use package, with most features available in a couple of pages. With the ability to interact with QuickBooks, this solution has many features that are sure to be a benefit to businesses.
Ratings: ease of use 4/5, features 4/5, value 5/5