GeoOp Review – Mobile Field Operations Management
by Stephanie Faris
Published on 28 January 2014
GeoOp Review - making the entire process of dispatching and billing for jobs easier
At one time, it was easy to manage paper-based processes. Administrative employees were headquartered in central office, with field staff forced to come into the office to take care of those processes. These trips took away from the time field workers spent completing jobs, reducing productivity each day.
In an increasingly mobile world, field services workers can now eliminate those trips, connecting with central office to complete tasks like submitting work orders and logging time worked.
With GeoOp, all of these tasks can be conducted via a smartphone or tablet, whether employees are using Android or iOS devices. This GeoOp review will look at the field management app's workforce management and billing features to show how it can provide a comprehensive solution to a business' needs.
GeoOp Review - About the Product
GeoOp allows for easy management of operations, giving businesses the ability to oversee employees who are out in the field as though they were in the office. Updates are in real time, so supervisors can easily keep up with the status of each assigned job at all times. The ability to report in using this mobile app can increase a business's productivity by as much as 20 percent, since they will no longer be required to drop paperwork off at the office, where it then must be manually entered into a computer system.
Main Functionality of GeoOp
At all times, managers can use GeoOp to track real-time information on operations. Questions like, "How many jobs are currently open?" and "How many billable hours are there this week?" can be answered in the app, where it is shown live.
Benefits of Using GeoOp
In addition to tracking employees and the work they've performed, GeoOp can track inventory and assets to make billing easier. Workers in the field can log time and add parts to billing directly on a mobile app, eliminating paper-based processes altogether.
The Basics: What Does It Look Like
GeoOp's dashboard, accessed by office workers via a web browser, shows a list of all jobs that are currently pending. To add a new job, click on the +Add Job button in the top right corner.
Dashboard
To add a new client, add them from the Quick Links Tab to the left or simply complete the Add New Job form and when you click save the new client will be created. For existing clients, enter the client's name in the Client field and it will automatically populate all of that client's location information.
Adding a new job
Once all of the information has been entered about the job, the company can search the map on the right to find the closest available team member to take care of the assignment. You can also assign employees by clicking on "Schedule" in the top menu bar.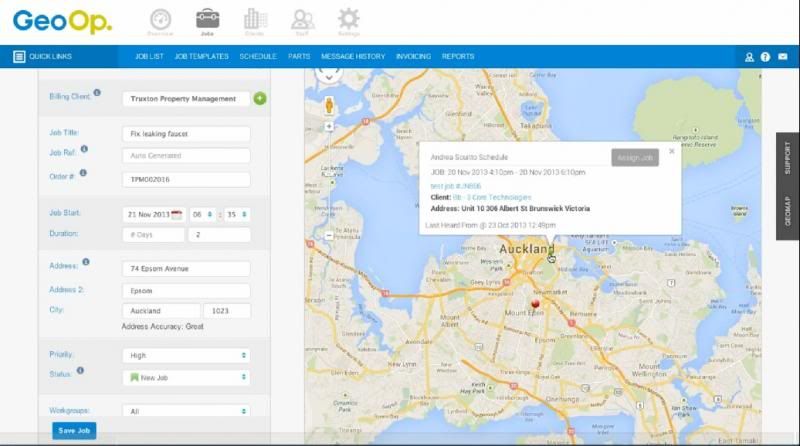 Scheduling
Once you're in the scheduler, you can filter by staff resource, day, week, or month. In the left panel, the workforce can be filtered by workgroup.
In the field, the employee will receive an instant notification on their smartphone or tablet. This same notification will come if a change is made to an assignment. The user can then log into GeoOp on their device. At login, they'll see a list of his assigned jobs.
Mobile app
An employee can update their status at all times, add new jobs, access a list of other employees and what they are currently doing (if they have the access permissions) and view information on an assigned job. Clicking on the address will bring up directions to the location.
Once on the job, a worker can begin logging the job by clicking on Status. The software will walk the worker through the various stages of beginning the job, including starting a Job Timer that tracks work hours for billing purposes.
Under Charges, the worker can search for parts and add them to the charge alongside billable hours.
Support Information
Either through the web console, the website, or mobile devices, customers can search articles or submit a ticket for help.
Pricing Information
GeoOp is free for office workers, but businesses will pay $19.95 per month for each field worker that accesses the system. For businesses with a large numbers of field services workers, volume pricing is available.
GeoOp Review - The Bottom Line
GeoOp is an app that follows a field services worker through each stage of the process, logging time and capturing it in billable hours. This makes the entire process of dispatching and billing for jobs easier for businesses, avoiding errors and increasing productivity.
Ratings: ease of use 4/5, features 5/5, value 4/5