Grasshopper Review – Toll-Free Numbers for Businesses
by Stephanie Faris
Published on 15 November 2013
Grasshopper provides toll-free and vanity numbers that show up on caller IDs. This Grasshopper review will go through its various features, including voicemail and Cloud phone options.
Many of today's small businesses are run from cell phones, while traveling from one meeting to the next. These movers and shakers need a way to stay in touch with clients without giving the appearance that they're away from the office.
Grasshopper Review - A great option for businesses interested in a cloud-based phone system
Grasshopper Review - About the Company
With more than 100,000 customers around the globe, Grasshopper helps businesses of all sizes compete with much larger corporations. Because the service operates in the cloud, it requires no hardware, saving business owners money on initial setup and ongoing maintenance. Cloud-based phone systems are growing in popularity with companies who seek an easier way to access messages and change directory information without having to contact a third-party service provider to do it.
Main Functionality of Grasshopper
To get started, businesses sign up for a custom number that they can then route to cell phone numbers of their employees. Those numbers can be toll-free or local and businesses can choose between random numbers or personalized vanity numbers.
Within seconds of signing up, businesses can set up a main number directory and record a voicemail message. If a business chooses, a professional recording can be created for an extra fee. Once the system is set up, administrators can log in and manage the system at any time through Grasshopper's web-based console.
Benefits of Using Grasshopper
Businesses existing solely off of cell phone numbers can look unprofessional, potentially losing valuable clients. By choosing a number that is dedicated specifically to the business, companies are able to ensure that number is always answered professionally. Additionally, a business number can be added to online sites, print materials, business cards, and more without publicly posting personal cell phone numbers of staff members.
One of the biggest benefits of Grasshopper is the ability to receive voicemail messages in text format. These messages can be delivered directly to users' e-mail accounts, allowing them to check messages while in a meeting with minimal disruption. Grasshopper offers unlimited extensions, as well, which ensures the system will grow as the business grows.
The Basics: What Does It Look Like?
Once you're signed up, you'll be sent a welcome message through the phone number you used to sign up. You'll also be able to log in and set up your new phone. You'll first need to set up your main greeting options.
Set-up
Grasshopper walks you through each step of the setup, helping you choose a script for your greeting: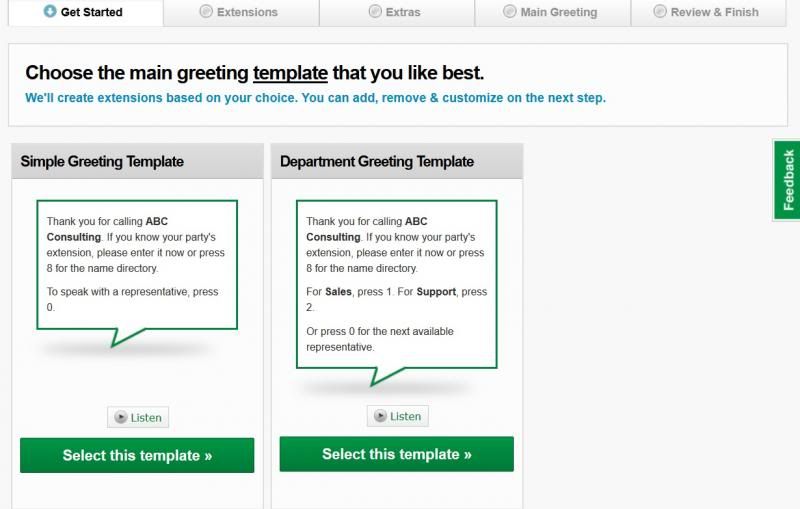 Templates
Create and customize your extensions: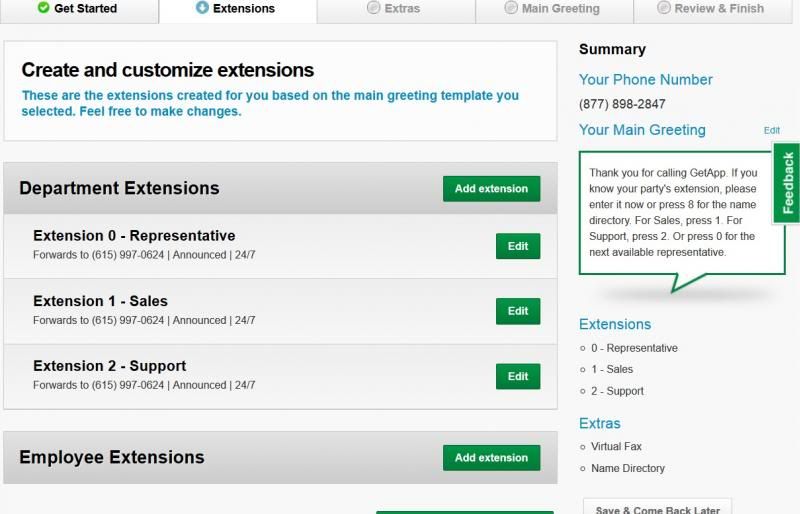 Extensions
Add additional features like fax capabilities, receive a text version of all voice mails, and more: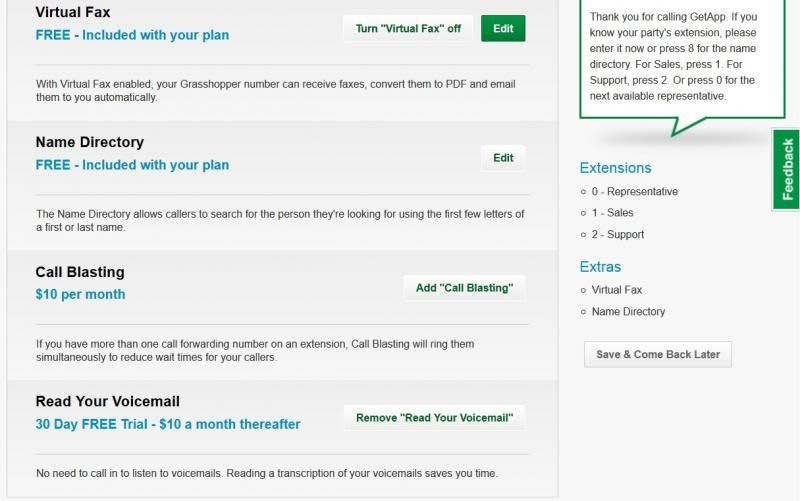 Addition al features
For $75 extra, you can pay to have a greeting professionally recorded or record the greeting yourself at no additional charge:
Professional greetings
If you choose to record your own greeting, you can record it through your computer's microphone, by uploading an mp3 file, or by calling your greeting in by telephone:
Greeting script
Once your system is set up, you can manage your phone from the online console at any time:
Console
Support Information
Grasshopper offers support through a knowledge base, a support ticket, or by telephone.
Pricing Information
Plans begin at $12 a month, but the lowest plan charges six cents per minute. The $24 per month plan includes 500 minutes and a $49 per month plan includes 2,000 minutes.
The Bottom Line
Grasshopper is a great option for businesses interested in a cloud-based phone system. This Grasshopper review has proven that it is a viable alternative to other more popular cloud-based telephone solutions.
Ratings: ease of use 5/5, features 5/5, value 4/5