Incentivibe Review – Offer Big Contest Prizes for a Fraction of the Cost
by Stephanie Faris
Published on 1 October 2013
Unfortunately Incentivibe is now longer in business. Check out Antavo for an alternative.
Have you ever wondered how businesses can afford to give away $500 gift cards? Incentivibe is the answer. The site pools small and mid-sized businesses that might not be able to afford large prizes on their own. Working as a group, these companies can then offer opportunities to win prizes to their own customers while paying only a fraction of the cost of each prize.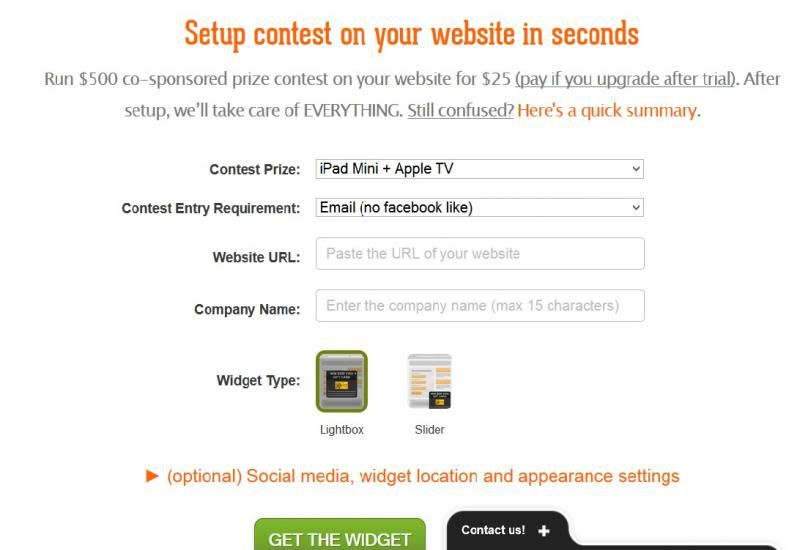 This Incentivibe review looks at Incentivibe's ease-of-use, price, and helpfulness to small businesses as they launch marketing campaigns. We'll also review a couple of upcoming specials the site is starting in preparation for the busy holiday buying season.
About Incentivibe
Businesses are interested in attracting new customers, but with so many competitors, it's hard to stand out. Offering a prize can be a great way to entice consumers to provide an e-mail address or retweet a special offer. Unfortunately, most small businesses can't afford to invest $500 in a gift card or $329 for an iPad Mini.
Enter Incentivibe. This easy-to-use website allows small businesses and individual bloggers to pool their resources and share in the cost of a contest prize. The $500 gift card, for instance, can be shared by 20 businesses at $25 each, allowing for one winner among those 20 businesses' customers.
Main Functionality of Incentivibe
Incentivibe offers businesses a choice of prize, allowing them to offer prizes to those who sign up for an e-mail list or like them on Facebook. To ensure fairness, Incentivibe chooses one finalist per company, then chooses a winner from the finalists. Once the prize has been issued, Incentivibe sends an e-mail to all contestants, announcing the name of the winner. At no time is the business associated with that customer revealed to contestants.
For a limited time, Incentivibe is hosting a launch special. Small businesses can provide their customers the chance to win $1,000 in Facebook ads. This prize amount is higher than prizes typically offered in incentive contests.
Increase your Reach and Get Targeted Leads with Incentivibe
Incentivibe encourages social media users to spread the word about a company through shares and likes. The program not only helps build a company's brand, it's also a great way to build followers and collect e-mail addresses for future mailings.
Subscribers also have access to real-time analytics to allow them to follow the success of their contests. Incentivibe takes care of delivering prizes to customers, so you won't have to waste time waiting in line at the post office.
But the biggest benefit of Incentivibe can only be measured in results. According to the company, clients see a 200%-1,200% increase in e-mail subscribers and social media fans after using the service. Incentivibe conducted two major surveys on its service, with the results published on MarketingProfs and Unbounce.
The feature of Incentivibe is certainly the ability to collect extremely targeted leads. Getting untargeted leads is the biggest problem people have with contests. With Incentivibe's micro-insight feature they can solve that problem.
The Basics: What Does It Look Like?
When you first log in to Incentivibe, you're prompted to choose your prizes. The current selections are: iPad Mini + Apple TV, $500 Visa gift card, Tiffany & Co. gift card, Nike Fuelband + watch, or $500 in a vacation card, PayPal cash, BestBuy card, StubHub gift card, Amazon gift card, sports ticket, J. C. Penney card, or one of three $150 books bundle.
For your contest type, you can choose to require entrants provide only an e-mail address, answer one question and provide an e-mail, like your company on Facebook and provide an e-mail, or e-mail before liking your company on Facebook. Once you've made your choice, you'll be given the choice of a lightbox or slider widget.
Below is a sample of a lightbox requiring only an e-mail address to enter for an iPad Mini + Apple TV:
A lightbox that gathers insights through asking a question (plus requiring an e-mail address) looks like this on your website:
Once your contest is in place on your website, you'll have access to reporting to track the success of your contest. Below is a sample of the analytics Incentivibe provides:
Support Information
Incentivibe offers support via e-mail and phone. The service also comes with a money-back guarantee, with customers allowed to cancel at any time.
Pricing Information
Customers pay $25 which includes a client's contribution to the $500 prize pool as well as all free services. There are no contracts, so customers are free to stop using the service at any time.
The Bottom Line
Incentivibe is a great value for small businesses interested in growing their subscriber lists and social media followers. By joining forces with other companies, businesses can offer large-dollar prizes for only $25 and expect results according to Incentivibe's research results.
If you want to test Incentivibe, the company is currently doing a giveaway contest for bloggers/marketers/small businesses where the prize is a $1000 Facebook ads credit.
You can enter here and if you win you can use $1000 of Facebook ads to drive traffic to your website.
Ratings: ease of use 5/5, features 4/5, value 5/5