InfoFlo Review – a Contact and Customer Relationship Management Solution
by Stephanie Faris
Published on 8 April 2014
InfoFlo Review - A CRM application with cross-reference capabilities, where users can track the status of leads and projects to avoid missed opportunities.
Keeping up with customer information is essential to any business. But with so much info in so many different places, it can be a challenge to organize it all effectively.
InfoFlo brings contact and relationship management together in one place, allowing businesses to more easily coordinate their sales and customer service efforts. This InfoFlo review will go over the CRM software ability to manage your customer data.
InfoFlo Review - About the Solution
Created by Toronto-based company Carmel Vision, InfoFlo helps businesses across the globe organize and manage their customer data better. With one glance, a business can see all pertinent contact information about a customer, including the most recent activities regarding that customer. This allows staff to easily determine if a customer needs to be contacted for follow-up.
Main Functionality of InfoFlo
There are many CRM tools on the market, but what sets InfoFlo apart is its ability to link various elements together. This unique linking system allows you to link anything and everything in the system (i.e. contacts, companies, projects, emails, tasks, notes etc) giving the user a complete 360 degree view of their customers. Also the intuitive system wide sharing features ensures everyone in the organization is up to date with the most relevant information. This cross-functionality makes InfoFlo a great tool for easily keeping up with prospects and sales.
Benefits of Using InfoFlo
In addition to the ability to easily link and share information system wide, InfoFlo has a complete Outlook`s sync, task management, project management and telephone management system.
The two-way Outlook sync feature automatically syncs all contacts, companies, categories, calendar events and emails. This complete sync works with all versions of Outlook from 2003 and up.
The InfoFlo telephone management feature automatically links and archives all incoming and outgoing call records, voicemails and voice recording. Now users can know exactly when a call was last made/received without having to manually make note of this in the system.
The Task Management feature lets users create tasks and attach them to entities (contacts, companies or projects) for easy tracking and assign them to different users.
The project management function of InfoFlo lets users manage projects directly from the software. Contacts and companies can be linked/shared with others who are working on the project. Emails, documents and notes can be added for all users to collaborate without any data being lost. All sent or received emails related to the project are automatically linked, so you always have the most up to date information.
The Basics: What Does It Look Like?
At first login, a user will be prompted to set up connections.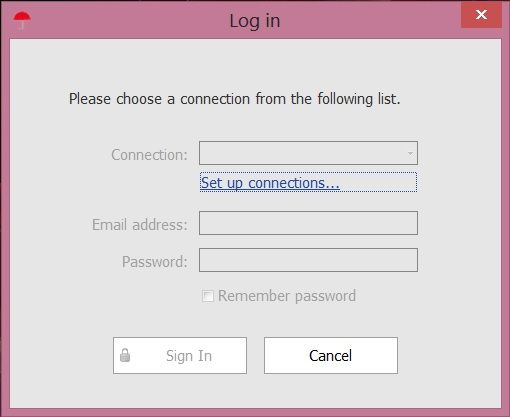 Login window, where users can set up connections
Once connections are set up, users can see all of their contacts in a dashboard. Clicking on an employee's name brings up contact information about that employee.
Detailed contact information
The summary screen, listing all of the latest activity on a particular client, is displayed on the bottom half of the customer contact screen. Clicking on the emails tab at the bottom of that screen shows all emails linked to that contact. Calendar and notes information is also pulled in automatically, unlike other CRMs where email information must be manually linked.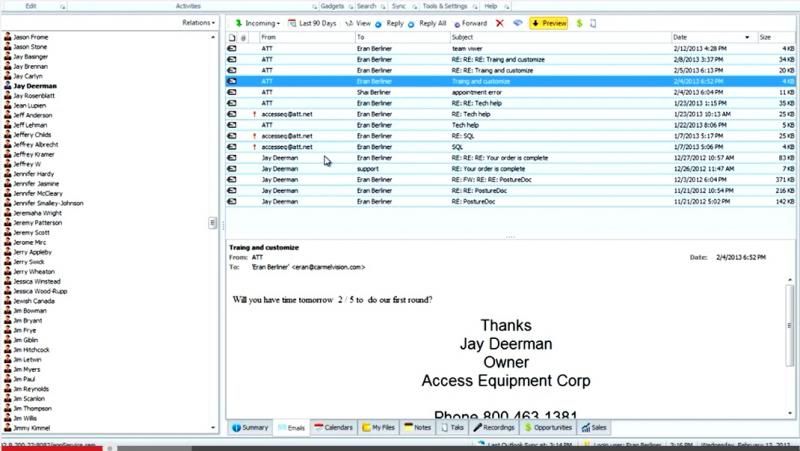 Summary screen
By selecting the emails tab on the left, a user can view all emails. This process can also be used to view all tasks, notes, tasks, opportunities, sales, and more.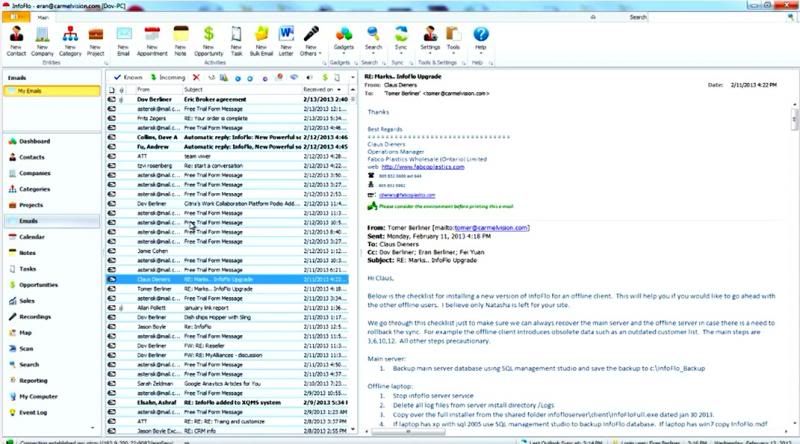 Emails view
A user can also access his calendar from the tab on the left.
Calendar view
Clicking on Dashboard takes a user to an overview of opportunities.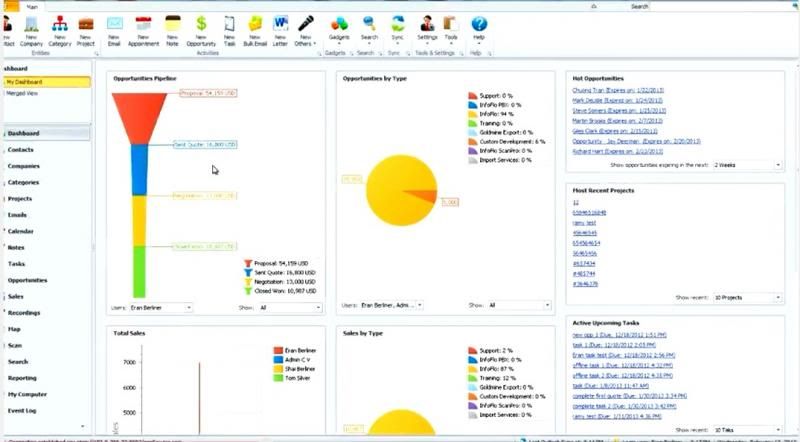 Dashboard with overview of opportunities
Clicking on Projects on the left takes a user to a list of all of the projects assigned to him. Clicking on a project allows a user to toggle between all of the emails, calendars, files, etc. associated with that task.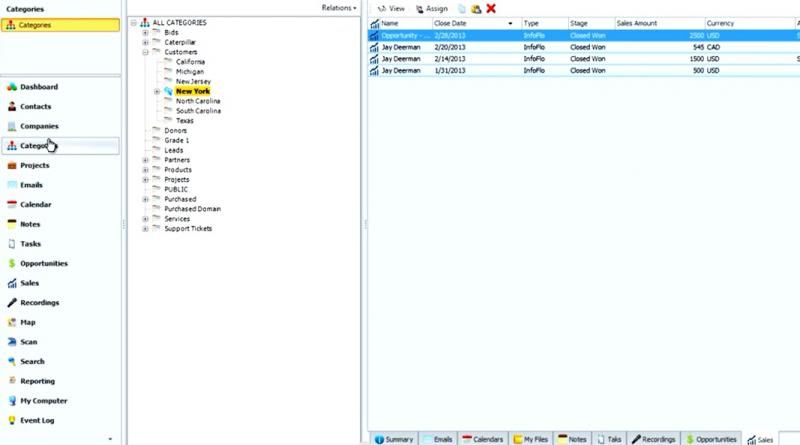 List of projects assigned to an user
Support Information
Support is available through a support ticket, with status being updated regularly to keep users posted on the progress of an issue's resolution. An extensive knowledgebase is also available that includes videos and how-to tutorials to help users learn different aspects of the system.
Pricing Information
InfoFlo is priced at $99 per user, with free upgrades for life.
InfoFlo Review - The Bottom Line
InfoFlo is a comprehensive CRM that goes beyond what many competitors do. This software helps businesses manage all their communication activities. With easy cross-reference capabilities, users can stay on top of leads and projects to avoid missed opportunities, share information with different departments, create custom reports and e-mail campaigns, all from one intuitive interface. This software should be considered by any SMB looking for a comprehensive CRM system that is also affordable.
Ratings: ease of use 4/5, features 5/5, value 4/5