Intralinks via Review – Share Large Files Securely
by Stephanie Faris
Published on 16 September 2013
Anyone who has ever tried to share large files with someone knows that finding a venue can be tricky. Most e-mail programs have size limits and FTP solutions can be complicated to navigate. Intralinks VIA is a SaaS solution that allows users to exchange and store files securely with the ability to access all content via a mobile device.
This Intralinks VIA review will examine the app's features and benefits to determine how it stacks up against competitors like Dropbox. The file-sharing service says it provides the most secure way to share files across multiple devices. We'll see how Intralinks VIA compares to free solutions in both security and features.
About Intralinks VIA
Intralinks is a well-known Software-as-a-Service (SaaS) application that focuses on enterprise content management and collaboration solutions. With VIA, Intralinks has launched a service that allows for easy sharing of content between team members and individuals.
Unlike similar services, Intralinks VIA provides enterprise-grade file-sharing, providing administrative tools that put businesses in control of their files. Intralinks claims on its LinkedIn profile that its services are used by more than 800 Fortune 1000 companies worldwide. Intralinks VIA adds to the offerings the company provides to its many clients.
Main Functionality of Intralinks VIA
Intralinks VIA offers users the ability to share and store files, offering unlimited storage with each account. This allows businesses to store data for collaboration between team members and clients. Because administrative control is given to the business, security levels can be adjusted on an as-needed basis.
Similar to other file-sharing apps, businesses can sync files directly on the desktop and access those files from anywhere using mobile devices. Files can be shared both internally, behind firewalls, and externally, for file-sharing with clients outside of company firewalls.
Benefits of Using Intralinks VIA
One of the primary factors that sets Intralinks VIA apart is control. If a user changes his or her mind about a file that has been shared, that file can easily be removed from other user accounts through Intralinks VIA's UNshare feature. The person who shares the file has lifetime control of that file, with the ability to delete it or update it at any time.
Intralinks VIA was built specifically for businesses, taking into account the security concerns and control needs many businesses have. An audit trail allows administrators to monitor daily activity to see which documents are being viewed, by whom.
The Basics: What Does It Look Like?
Intralinks VIA utilizes work streams, allowing businesses to set up separate file-sharing folders for each of its projects. When you first log into Intralinks VIA, you'll be asked to start a new work stream. After you name your new work stream, you'll be able to specify whether to allow restricted access so others in your organization can add and update files. Confidential access means only you can add and update files, with access to others being read only. Businesses may also opt to make files public, which requires no login.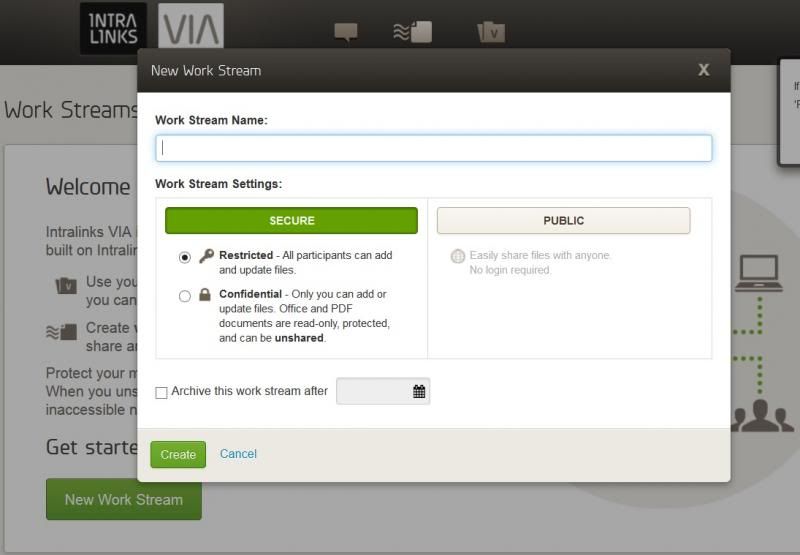 Once you've created your work stream, you'll be redirected to a page where you can begin uploading files. You can also invite people on this screen. In the top-right corner, you can set up a date to archive the folder if you foresee a time when your organization will no longer need to access the data.
Support Information
Intralinks VIA clients can obtain support via e-mail or phone. Support is available in 140 different languages.
Pricing Information
Intralinks offers a free 30-day trial of VIA. After that, a monthly subscription is $25 per user. Intralinks offers incentives for businesses, so interested companies should contact sales.
The Bottom Line
Intralink VIA is a great solution for businesses that emphasize collaboration among various team members and clients. Because the administrator chooses access levels, files will only be visible to those who are supposed to see them. However, at a price of $25 per user per month, the solution may be too costly for some organizations.
Ratings: ease of use 5/5, features 5/5, value 4/5