Intuit GoPayment Review – Mobile Payment App for Businesses
by Stephanie Faris
Published on 11 November 2013
Intuit GoPayment Review - For businesses wishing to accept payments on the go
Cash-only businesses are losing customers to competitors. With so many options today, businesses can solve that problem using a mobile device and a card reader. Intuit's GoPayment joins the many solutions providers offering mobile payment options.
This Intuit GoPayment review will showcase the features that set Intuit's app apart from others. With its trusted name and compatibility with other products, Intuit's apps have proven themselves to be ideal for businesses of all sizes.
Intuit GoPayment Review - About the app
Intuit's GoPayment app is designed to allow businesses to accept payments anywhere, using any mobile device. Traditionally, accepting payments on the go has been a challenge for professionals, but the ability to accept mobile payments opens up possibilities for businesses. Service technicians can accept credit card payments from customers' living rooms and conference attendees can swipe credit cards directly from their booths in the convention hall. Mobile payments are also ideal for independent workers like freelancers and hair stylists who need the ability to accept credit cards without having to commit to a costly POS system.
Main Functionality of Intuit GoPayment
When used in conjunction with the Intuit GoPayment reader, the mobile app allows businesses to swipe a card, accept a signature, and process payments instantly, with the ability to also send a receipt to a customer via e-mail or text. GoPayment is compatible with iOS and Android devices, with payments accepted from Visa, MasterCard, American Express, and Discover.
Benefits of Using Intuit GoPayment
Intuit offers competitive rates, with per-swipe fees starting at 1.75%. The trusted name is also a benefit, as both businesses and their customers will know their information is secure. One major option that sets Intuit apart, however, is that credit cards can not only be swiped or keyed, but a business can also snap a photo of the front of the card for payment processing. This may be a better option for those days when the card reader was accidentally left behind.
The Basics: What Does It Look Like
To get started, businesses must choose either a monthly or pay-as-you-go subscription. (More information on these options is available under "pricing" below.) You'll enter your information to get your free software download and have a card reader mailed to you. While you wait, you can still use the app but you'll be required to pay slightly higher fees on each transaction.
Once you have your card reader, you'll first sign into your Intuit GoPayment account.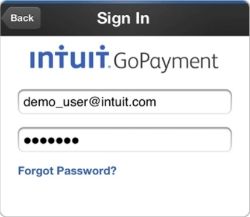 Sign-in
Then you'll insert your card reader into your headphone jack. Swipe a credit card and follow the prompts to process payment.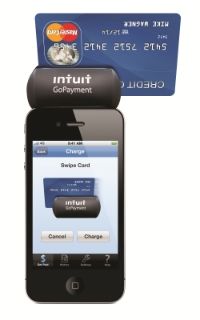 Card reader
Customers can sign directly on the device's screen using an index finger or stylus.
Signature
Once the transaction is complete, the business can send the receipt to a customer's e-mail account.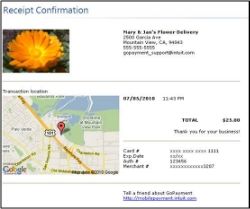 Support Information
Through its merchant service center, Intuit offers e-mail help. FAQs can be answered on the support section of the website.
Pricing Information
Intuit offers two payment plans for its GoPayment customers: monthly and pay-as-you-go. With the pay-as-you-go plan, there is no monthly fee but Intuit charges a 2.75% swipe fee, with fees of 3.75% for payments that are manually entered. Businesses who plan to regularly accept payments will likely benefit from Intuit's monthly plan, however, which charges $12.95 a month. On this plan, swipe fees drop to 1.75% and manually keyed payments incur a 2.75% fee.
The Bottom Line
With so many options for mobile payment processing, businesses should choose the option that will provide the best functionality with the lowest rates. In this Intuit GoPayment review we have seen that it offers competitive rates and ease-of-use to provide a great option to businesses wishing to accept payments on the go.
Ratings: ease of use 5/5, features 4/5, value 5/5