Nutcache Review – Helps Businesses Get Paid Faster
by Stephanie Faris
Published on 25 September 2013
Businesses of all sizes are learning the importance of automating payment and billing. Nutcache's top goal is to help businesses get paid faster and it does so by automating the billing-payment tracking cycle to speed things along.
In this Nutcache Review, we'll take a look at this invoicing site's features and benefits to determine how it stacks up against the many competitors out there. In the process, hopefully we'll help businesses decide whether Nutcache is the best application for their needs.
About Nutcache
Nutcache is an invoicing application developed by Canadian company Dynacom Technologies. After more than two decades in the industry, Dynacom saw a need for an invoicing and accounting system that would open up Cloud-based billing to freelancers and small businesses, as well as large companies. By offering its services for free, Nutcache is a great solution for any business's budget.
The name Nutcache refers to squirrels who store up nuts for winter. In a similar way, Nutcache helps businesses stock up, save money, and plan for the future. Additionally, the word "cache" is used in much of businesses these days to refer to storage.
Main Functionality of Nutcache
Nutcache allows businesses to create professional invoices, manage expenses, track time and projects. All of this can be done in multiple languages and include a strong real-time reporting.
Fast invoicing
Nutcache allows businesses to create professional estimates and invoices featuring their own company logos. There is no limit to the number of estimates and invoices a business can send. The online invoice generator makes invoicing and job estimating easy, thanks to the major integrated payment gateways that puts an end to the hassle of having to collect or deposit checks, speeding up the process to ensure a quicker payment turnaround.
If a client desires an estimate before work begins, businesses can send the invoice electronically. The client can review the estimate and approve it online, at which point an invoice can be easily created from that approved estimate. Once the work is complete, the business can send invoices by e-mail. Nutcache's invoice tracking system lets you know when a client displays his invoice, ensuring you don't get the "never received" or "can't read invoice" excuses. Those invoices can also be converted to printable invoices if a business prefers.
It is really easy to track paid or unpaid invoices with Nutcache, just by filtering the invoice list report accordingly.
Nutcache helps you record and handle your expenses online with no waste of time with the expense manager that lets you log, track and even invoice your project expenses painlessly.
Track time and projects
Nutcache helps you manage all of your projects efficiently and easily and keep track of all your ongoing projects. The time management tools included in this online application allow you to log all your employees' hours on various projects so that you may bill your clients accordingly.
Multilingual application
Nutcache allows businesses to invoice their clients directly in their own language. Currently available in 5 different languages (English, French, Spanish, Portuguese and Japanese). According to the developer, Russian and German will soon be available too.
Real-time reporting
Nutcache real-time reporting feature provides basic and advanced financial reports like customer aging, revenue by client, product or service, account statement, payments history, tax summary, all prepared with a single click, and required to stay up-to-date on one's business' progress.
Benefits of Using Nutcache
While there are numerous other invoicing solutions, most charge either a monthly or per-invoice fee. Even providers that offer free versions limit the number of invoices that can be sent per month.
With Nutcache, all invoices and estimates are unlimited, as well as clients, items and services. Businesses can track which invoices have been paid, tracking overdue invoices in order to avoid something from falling through the cracks. And because everything is done through Nutcache's website, users don't have any software to install.
Nutcache is multi-user and multi-company, which mean businesses can create an unlimited number of companies and users, very practical for adding team members or even for accountants who wish to combine several businesses in one single Nutcache account.
The Basics: What Does It Look Like?
After logging in, businesses are presented with a page that asks for information about their companies.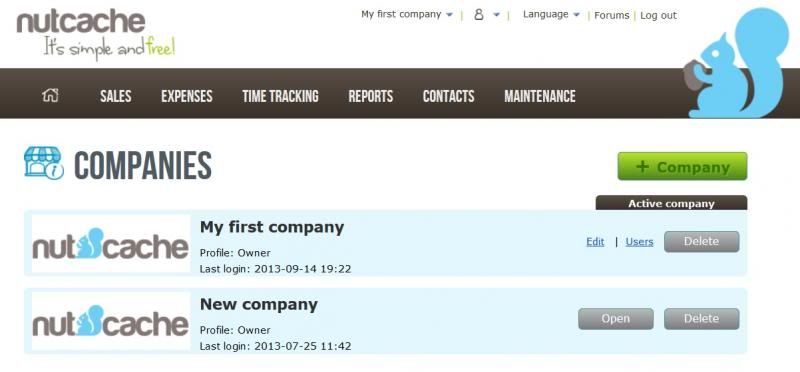 Here, you simply add your information, including the number of employees and a contact e-mail address. Once you click on the + Company button, a form opens to allow you to enter your data.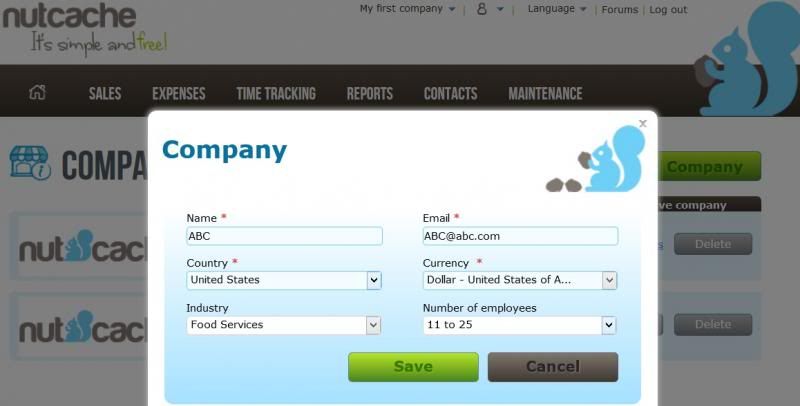 Once you've saved the information, you can begin sending invoices. The invoice creation page is straightforward.
Each section of Nutcache is easy-to-use, requiring no explanation. Businesses can easily learn how to create invoices in the app, and with the reporting tool, they can gain valuable insight into which products or services are earning the most revenue. Personnel can also track their time in the app for billing purposes.
Support Information
Nutcache offers users the option of support via a FAQs page and online support. The site also has a forum -available in 5 languages and two more to come soon- where users can post any problems or questions they have and get answers from the Nutcache community.
Pricing Information
Starting from $14 per month
The Bottom Line
While there may be more comprehensive solutions on the market, those applications come with high monthly fees. Nutcache is a great product for sole proprietors and businesses of all types.
Ratings: ease of use 5/5, features 5/5, value 5/5