Soda PDF Online Services Review – Online PDF Creation and Management
by Stephanie Faris
Published on 25 February 2014
Soda PDF Online Services Review - Its pricing model makes it a winning solution for businesses required to regularly manage and work online with PDFs
Until recently, creating Portable Document Format (PDF) files was limited to those who owned the paid version of Adobe Acrobat. But in recent years, several options have emerged that provide a more affordable alternative. Soda PDF is one of those options, with a free software download that lets users create and manage PDF files.
With Soda PDF Online Services, the process is migrated to the cloud, without any software downloads required. This Soda PDF Online Services review will look at the app's ability to create and manage documents completely online.
Soda PDF Online Services Review - About the Company
Released in 2014, Soda PDF Online Services is a document management solution that serves as an online version of Soda PDF 6, a popular free PDF creator. Recognizing the popularity of mobile devices, the app's creators set out to offer a service that would provide functionality without requiring users to store software or documents locally.
Main Functionality of Soda PDF Online Services
Using Soda PDF Online Services, professionals can create PDFs from a variety of popular document types. Files can also be converted from PDF to Word or Rich Text Format (RTF) using the online app. Users can also merge multiple files into one PDF using the web app, with all files stored in the cloud for access from any device. Currently, Soda PDF Online Services users can store up to 500 MB of documents in the cloud.
Benefits of Using Soda PDF Online Services
In addition to being able to keep work in the cloud, Soda PDF Online Services will soon let users edit, annotate, and secure PDFs using the online version. Items can be managed in batches, making it easy to convert a large group of files.
Currently, Soda PDF Online Services can be used to create, convert, merge, and split PDFs. Future releases will add on the ability to edit a PDF, which will save the user the time they now must spend to save it to a Word or RTF file first. The company also plans to eventually add on the ability to annotate or secure and sign a PDF.
The Basics: What Does It Look Like?
When a user first logs in, the app spells out the three steps involved in creating a PDF.

Create PDF window
To convert a PDF to a Word or RTF file, just click on "Convert PDF" in the left menu and follow the on-screen instructions.
Premium users have the ability to either merge or split PDFs.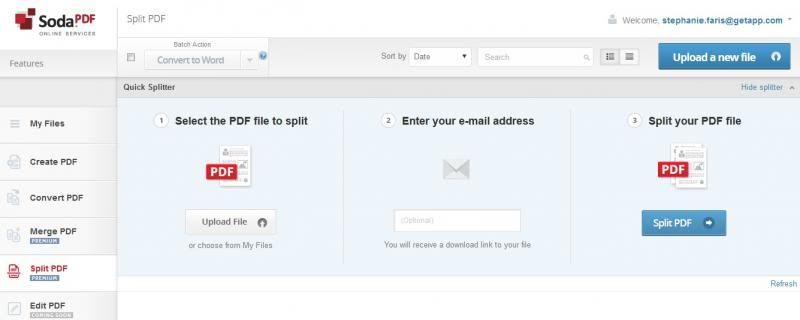 Split PDF window
At any time, a user can view all uploaded files, along with the PDFs created from them, under My Files.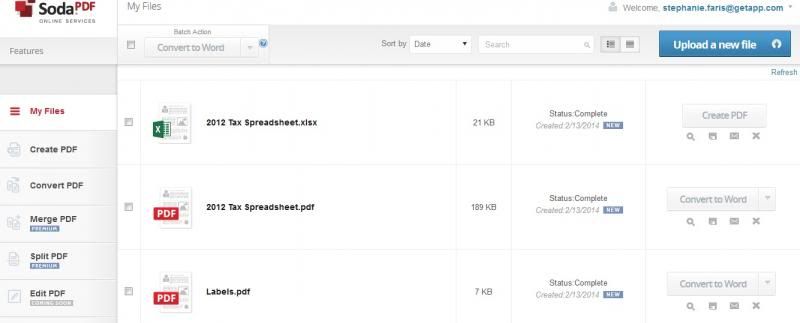 My Files window
Support Information
Soda PDF Online Services provides support through an online ticket or a 1-800 customer support line.
Pricing Information
Basic membership is free, but to be able to merge and split PDFs, users must upgrade to a premium account. A three-month subscription is available for $5.97, with one-year and two-year packages available for $19.97 and $34.97 respectively.
Soda PDF Online Services Review - The Bottom Line
Soda PDF Online Services' pricing model makes it a winning solution for individuals and businesses required to regularly work with PDFs. As the workforce becomes increasingly mobile, web-based solutions are expected to become more popular. Once the app offers the ability to edit PDFs, a feature already scheduled for next releases, it will likely prove invaluable to both business and personal users.
Ratings: ease of use 5/5, features 3/5, value 5/5