Teambook Review – Team Scheduling App for Businesses
by Stephanie Faris
Published on 19 November 2013
Teambook review - Project sharing, scheduling and tracking for all
Managing a team can be time-consuming and frustrating, especially for businesses that have multiple projects occurring simultaneously. Project management tools often tackle scheduling from a project perspective, rather than focusing on the people who will be performing the tasks associated with said projects,
Teambook provides an interface for managers and team members that allows project, time, and resource management. This Teambook review will look at the app's scheduling features and compatibility with other devices and apps to help businesses decide if it has the features they need to manage their planning.
Teambook Review - About the Company
Teambook is designed by Verano Apps, a company that designs apps targeted to small and medium-sized businesses. With Teambook, Verano's goal is to provide a simple scheduling tool that will let companies quickly and easily organize their teams so they can spend more time focusing on building their business.
Main Functionality of Teambook
Team managers can set up customer projects and add team members who will work on those projects. Workers can be scheduled directly in the app, providing each team member information on which person will be working on which part of the project at a given time.
In addition to scheduling, Teambook also allows workers to sync their calendar (Google, Windows, Mac) and clients to access their project planning to see who is working on their project and when. Businesses can also monitor their project budget and track man days planned and incurred for each project.
Benefits of Using Teambook
Project managers and business analysts can easily gain insight into how much time is being spent into a project, compared to the number of days that have been budgeted for it. This can quickly pinpoint planning problems in an organization, allowing businesses to adjust resources and handle projects more productively.
A tag feature also allows workers to be scheduled to work on a project based on their skills, location, department, and more to help schedulers find the appropriate resource. When a worker is assigned to work on a project, a notification will alert them. For workers using the calendar sync, new bookings also show up on their own calendar.
The Basics: What Does It Look Like?
When a user first sets up an account, the "Welcome " page will be displayed.
Welcome
Administrators will first create the projects that will be scheduled in Teambook. Projects can be billable, non-billable or time-off. This is useful to handle client projects, internal initiatives and vacation and sickness leaves. The project budget can also be defined in man days.
New project
Now you'll need to set up a new team. Do this by choosing "Team" from the menu on the left.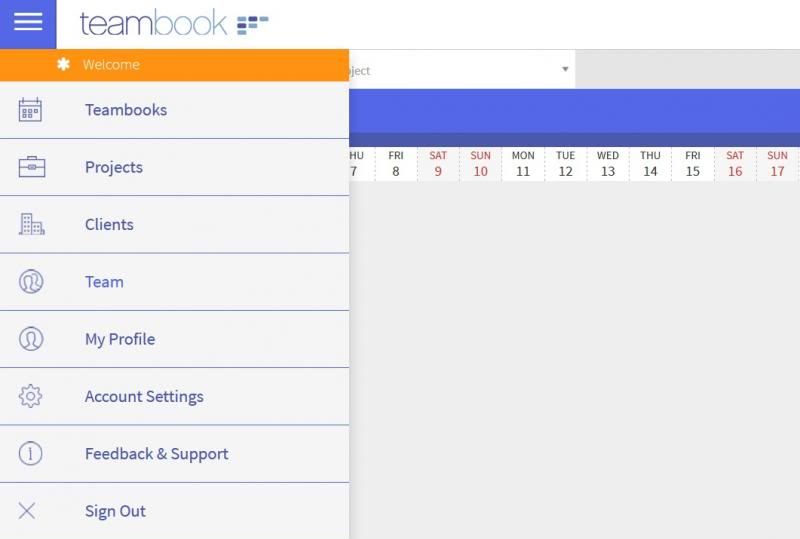 New team
Create new users by clicking on "Create User." Tags can be added for each user to record their skills, geography, experience and so on. This will be useful while booking workers as you will be able to use tags to filter and find the right worker. As you add users, they'll appear in a directory listing, alphabetized by last name.
New users
When you select a block of time (the smallest unit is ½ day), booking options appear at the bottom of the screen, allowing you to enter details about the time you're scheduling.
New booking
Support Information
Support is available via e-mail, as well as through a knowledge base. Users can also provide feedback and vote on various aspects of the app.
Pricing Information
Businesses are allowed up to 10 active projects for $29, with plans going up to $199 for 150 active projects. For businesses that have more than 150 projects, customized plans are available. Pricing information is available here.
The Bottom Line
We have seen in this Teambook review that it is a very useful tool to schedule, share and track projects, at a great price. However, it is not possible to book less than ½ day, which can be a challenge for some businesses. While the tool is primarily targeted to service and consulting businesses, this unit of time might be an impediment for others.
Additionally, when a user first logs in, it can be difficult to know where to start. A small "Welcome" at the top of the menu bar on the left leads users to a "get started guide," but that option is easy to miss. One click on each menu item takes users where they need to go, though, and once a user gets started, the site is extremely easy to use.
Ratings: ease of use 4/5, features 5/5, value 5/5