Trackolade Review – Simple Project Management
by Stephanie Faris
Published on 10 February 2014
Trackolade Review - An easy to use online project collaboration app
The task of project management in many businesses is left to trained professionals, armed with Gantt charts and methodology templates. To protect themselves and all interested parties, project managers often bog down project owners and developers with paperwork, requiring weeks of preparation before work even begins.
Trackolade recognizes that businesses today have the need to organize and control projects without complicated spreadsheets and contracts. This Trackolade review demonstrates how this simple project management solution can help an enterprise keep track of various projects in a simple, easy-to-use format.
Trackolade Review - About the Product
Today's cloud-based applications make team collaboration easier than ever. Trackolade provides workers a central meeting place, accessible online, that allows for team members to easily update the status of various assigned tasks. Rather than being formed by software or business experts, Trackolade was created by designers, developers, marketers, and project managers who personally see the benefits the app provides.
Main Functionality of Trackolade
Using Trackolade, a business can centralize all projects, with all team members able to access information on each project at any given time. This keeps the entire group involved in every step of the process, eliminating the need for multiple one-on-one conversations on the same issues. This not only saves time, it can prevent costly errors, since one employee may pick up on a missed task before others do.
Benefits of Using Trackolade
Since all communication can be contained within Trackolade, each project is well organized, with all relevant information in one place. Task creators can set deadlines, assign tasks, and mark tasks as completed once they've been done. All files can be uploaded directly to the project or attached to an individual conversation, ensuring they'll always be in one place.
Trackolade also integrates directly with Box.com, eliminating the need for Box users to manage their files in two different places.
The Basics: What Does It Look Like?
Immediately after login, the app invites a user to create a new project.
Staring a new project
After clicking on +Project, the user is invited to name the project.
Naming your project
Once the project is created, the app lets you start the process of adding tasks for team members to complete.
Once a task list is created, you can invite new members to the project. These invites will initiate an e-mail to the chosen team member.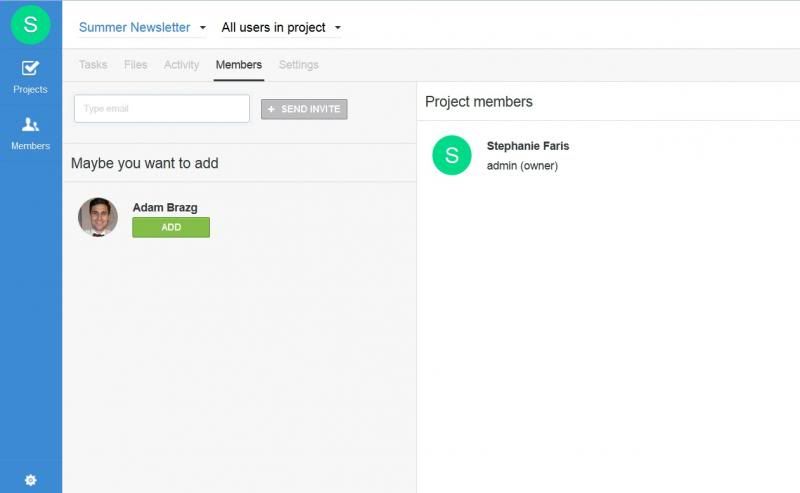 Inviting for collaboration
For each task, you can set a deadline, assign a team member, add comments, or upload an attachment. By clicking on the "play" button, users can track the time each task takes for billing purposes. Assigned team members can respond to comments in this space, automatically deploying an e-mail to the person who posted the original comment if they choose.
Perhaps one of the most valuable features of Trackolade is the ability to prioritize tasks across an entire project or by individual team member across all of the projects they belong to (drag and drop). This allows team members the ability to know their own priorities across the multiple projects they may be working on without affecting the priority of the tasks across the entire project itself.
Support Information
Although help is not available directly within the app, users can e-mail info@trackolade.com for support. They generally respond within a few hours.
Pricing Information
Perhaps the best thing about Trackolade is its price. For now, the app is 100 percent free. This will likely change as the app continues to develop, but it's a great deal for businesses that want to try out its many features.
Inviting for collaboration - The Bottom Line
Overall, the app is very simple to use. Within the task creation area, buttons aren't marked, which makes it too easy to archive or delete a task, but after the first time a user does this by mistake, he'll know. Among the many project collaboration apps on the market, Trackolade is one of the easier to use.
Ratings: ease of use 4/5, features 3/5, value 5/5