TrackSmart Review – Employee Attendance Tracking for All
by Stephanie Faris
Published on 17 December 2013
TrackSmart Review - Free Employee Attendance Tracking
Managing employees can be time consuming and frustrating. Many businesses still rely on paper-based processes or spreadsheets to track employee time. But even small firms can make the transition to online employee attendance tracking with TrackSmart, a Web-based solution to help companies manage employee time and attendance. This TrackSmart review looks at the app's features and functions for daily business use.
TrackSmart Review - About the Company
Developed by HRdirect, a leading provider of human resources solutions, TrackSmart enables employee attendance tracking through a convenient calendar interface, providing employers with an at-a-glance view of absences, special events and other important dates. Employee time-off requests can be submitted directly through TrackSmart, replacing paper-based processes with a more efficient and effective solution.
Main Functionality of TrackSmart
TrackSmart users log in to a dashboard to view each day's absences and events, important upcoming dates and employer compliance deadlines, with quick links to common tasks. You can quickly and easily add new employee records, record absences and run reports. You may also store all personnel information, including hire dates, emergency information and birthdays. The calendar displays upcoming holidays and other major events to help with planning.
TrackSmart provides an Employee Self-Service feature so employees can submit time-off requests, complete time sheets and update emergency contact information. Supervisors can review and approve employee requests and time sheets, and run their own reports.
Benefits of Using TrackSmart
TrackSmart is an efficient way to manage employee records, time and attendance for small- to mid-sized businesses. Administrators can record employee personnel information, time off and time worked, and many responsibilities may be delegated to employees with self service access, either online or using an iPhone or Android mobile app.
TrackSmart also has strong reporting capabilities. Managers can run reports highlighting absences by employee, department and specific absence codes, along with time off balances. It's easy to generate a list of employees with perfect attendance, for example, to acknowledge or reward them.
The Basics: What Does It Look Like?
After initial login, you're taken to a "Getting Started" page, which configures the system according to your specific needs.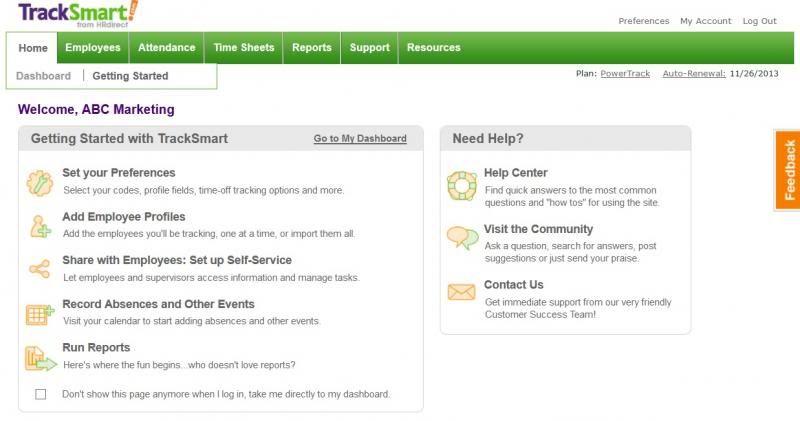 Getting Started
By choosing "Set Your Preferences," you may select absence and event codes, benefit year, time settings and other preferences needed by your organization.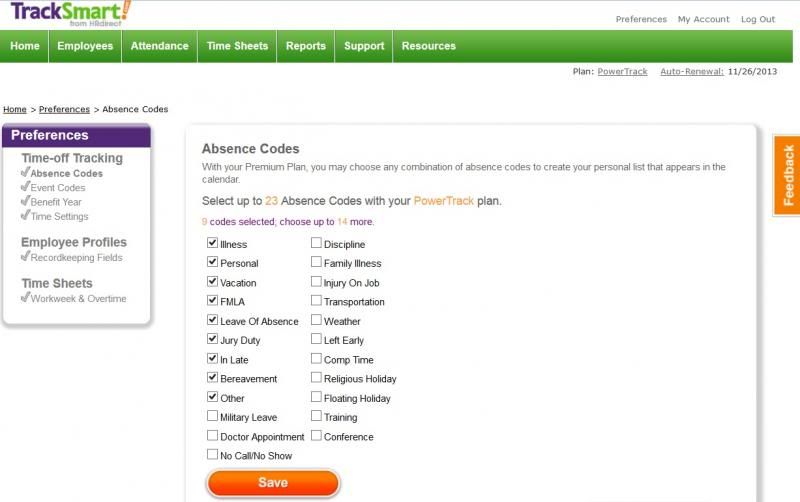 Preferences
Once basic preferences are set, you can choose Recordkeeping Fields to determine which items are displayed on each employee's profile page.
Recordkeeping
After setup, you click "Home" for your dashboard. From here, you add employees, calendar entries, approve requests and time sheets.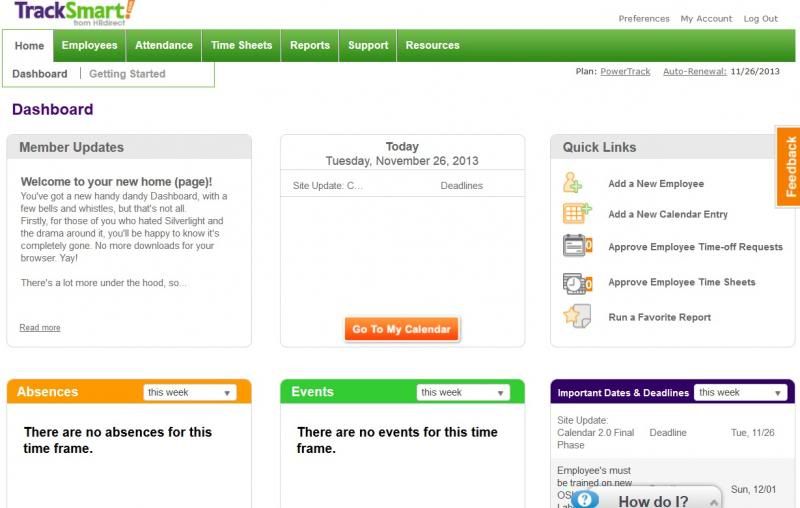 Dashboard
You then begin entering information for each employee (or import from a spreadsheet). Self-service permissions are entered here, as well as details about individual jobs, time-off allowances and statuses.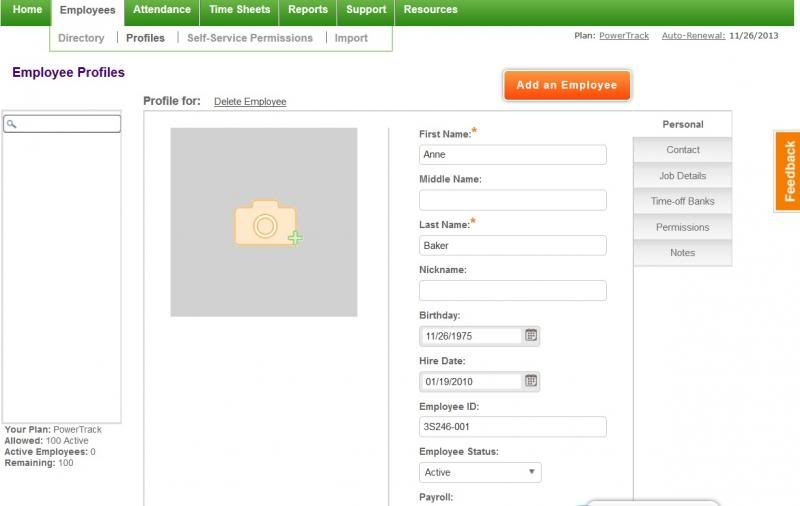 Employee Profile
After you've added your employees, they appear in your company directory and on the company calendar, where you can start tracking their attendance.
Support Information
TrackSmart's "walk-thrus" can be accessed by simply clicking on the "How Do I?" located in the bottom-right corner of the screen. The system also has a FAQs section, an advice center, and a forum where users can help each other. Monday-Friday from 8:30 a.m. to 5:00 p.m., users can receive support by e-mail.
Pricing Information
Premium plans begin at $149 per year or $19.95 per month, based on features and number of employees tracked. You can compare plans and pricing on the TrackSmart website.
TrackSmart Review - The Bottom Line
TrackSmart is a complete time and attendance, and employee self-service solution. It's easy to use and accessible from any computer or tablet with an Internet connection, and a good value for small- to mid-sized businesses. As your business is ramping that freedom of tracking employee attendance online can only be achieved through a paid plan.
Ratings: ease of use 5/5, features 4/5, value 3/5