VivaDesk Review – Customer Service and Help Desk Management
by Stephanie Faris
Published on 20 March 2014
VivaDesk Review - With an interface that features full flexibility, VivaDesk can be set up to work with any type of IT help desk or customer service desk
Whether a business sells products or provides services, customer service calls a part of the process. Managing these calls effectively is essential to any business's success, and the ability to allow multiple workers to access and update the system is a must.
VivaDesk makes incident management easy, empowering businesses to track calls, resolutions, and assets all in one place. This VivaDesk review shows how the help desk app can be used to improve a business's customer service.
VivaDesk Review - About the Company
Founded in 2003, VivaDesk focuses on bringing affordable productivity solutions to businesses around the globe. As the most experienced such service in the Software as a Service (SaaS) industry, VivaDesk serves businesses in a wide variety of areas, as well as public sector organizations.
Main Functionality of VivaDesk
VivaDesk offers solutions that work with a variety of business needs, from customer service calls to IT help desk tickets. These solutions are flexible enough to be customized to meet each business's environment. Each component, including tickets, assets, knowledge base articles, and end users, can be linked to provide on-demand relationship data and time saving trend analysis. Knowing how many tickets are associated with a particular computer can assist in replacement decisions.
Benefits of Using VivaDesk
VivaDesk offers different Ticket Types (such as Incident, Problem, and Change) which can be individually configured to have its own unique categories, priorities, statuses, custom fields, business rules, etc. Additional benefits around Ticket Types include the ability to support requests for service outside of traditional IT or customer service. The likes of Facilities, HR, Marketing, and even Health & Services departments receive requests for service. VivaDesk can ensure these requests become serviceable tickets with service level agreements to ensure prompt fulfillment.
With VivaDesk, businesses can also offer customers a wide range of options for submitting tickets, from email to web forms. All correspondence is tracked, both from the customer and from a business's team. Through VivaDesk's comprehensive reporting tools, users can track how many calls were processed, the types of calls, and response times, among many other things. This can help with budgeting or with determining issues that need to be addressed to reduce future calls. It can also be used to pinpoint problems with particular team members for performance review purposes.
The Basics: What Does It Look Like?
On the main dashboard, a user can easily access a visual representation of the health of their Service Desk.
Dashboard panel
Clicking on a ticket opens it to show the details associated with it. From here, a user can reassign, update the ticket's priority, close the ticket, or update its status. A user can also view assets associated with a particular customer by choosing the "Assets" tab on the bottom half of the screen.
Ticket details view
To add or view assets, simply click on the Assets button on the left side of the screen. A user can search existing assets or view inter-asset dependencies and relationships.
Assets view
In the Articles section, accessible from a button on the left, users can access articles from the existing knowledge base or add new articles.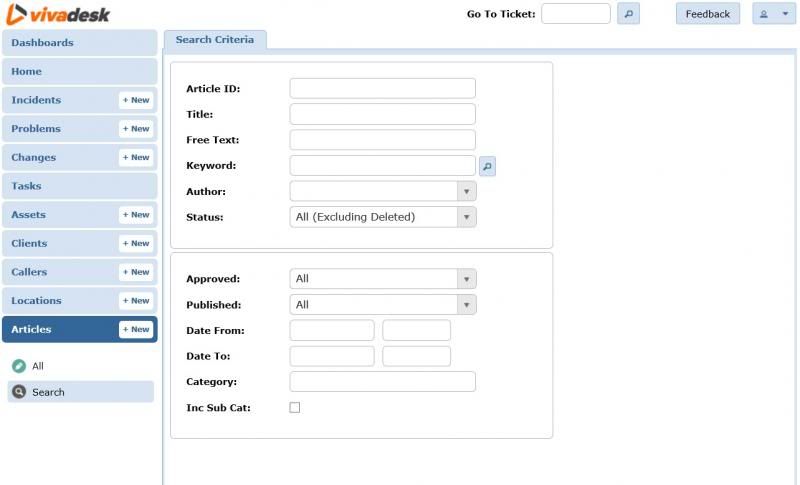 Articles section
Graphical workflow can be applied to a Ticket either from a pre-built workflow template or ad hoc, providing a visual representation of you complex workflow.
Workflow progress view
Point and click configuration makes getting up to speed quick and easy, and no coding is required.
Business rules configuration
Support Information
Support is available for VivaDesk customers by phone, email, or an online ticket. The company is also able to remote in and help troubleshoot problems or demonstrate how to complete certain actions.
Pricing Information
After a free trial, the Lite version of VivaDesk is available for $19 a month. This plan is robust enough to handle small help desks and customer services. For a solution designed to service an entire organization at an advanced level, a $29 per month plan is available.
VivaDesk Review - The Bottom Line
VivaDesk is a great way to manage help desk and customer service tickets. With an interface that features full flexibility, VivaDesk can be set up to work with any type of IT help desk or customer service desk.
Ratings: ease of use 4/5, features 4/5, value 4/5