Zenefits Review – All-in-One Payroll, Benefits, and Compliance
by Stephanie Faris
Published on 1 April 2014
Zenefits Review - A surprisingly comprehensive free solution, providing everything a user could need to manage employees.
While many business HR processes have been automated, aspects like hiring, setting up benefits, and ensuring compliance can still be challenging. Many solutions don't include all of these features, requiring businesses to seek out a secondary piece of software.
Zenefits combines payroll, benefits, and human resources into one solution to help businesses manage everything in one place. This Zenefits review will highlight the many functions the HR & Employee Management app can handle.
Zenefits Review - About the Company
Based in San Francisco, Zenefits was launched in 2013 after its founders personally experienced the HR challenges businesses face each day. Thanks to a large infusion of startup funds from investors who believe in the idea, Zenefits has grown quickly. The solution is now used by more than 1,000 companies with more than 20,000 employees managed using the software.
Main Functionality of Zenefits
Zenefits can help with three major areas of a business:
Payroll and taxes-Including automated deductions, contractor payments, 1099s, direct deposit, and state and local taxes.
Benefits and insurance-Including medical, dental, and vision, as well as COBRA, 401(k)s, and life and disability.
HR and compliance-Including employee onboarding, employee offboarding, self-service tools for employees, and paid time off tracking.
Benefits of Using Zenefits
When a new employee joins a company's staff, the system walks business users through the process of adding that employee. All employee agreements can be signed online, eliminating paperwork from the process altogether. Zenefits also takes care of collecting the necessary bank and tax information on an employee by letting the worker enter that information himself. Once all information has been collected, that employee will be added to the business's payroll and sign him up for the appropriate benefits.
Because everything is completed, filed, and stored electronically, businesses no longer have to worry about printing out documents, only to have to scan them back in once they've been signed. Its cloud-based functionality makes it accessible from anywhere, so managers can log in from the airport to approve leave or check their own benefits.
The Basics: What Does It Look Like?
From the main dashboard, businesses can upload information from existing databases or start from scratch. In the upper-left corner, a business can upload a logo and on the left, employees and company information can be added. Additional administrators can also be added and managed from this screen.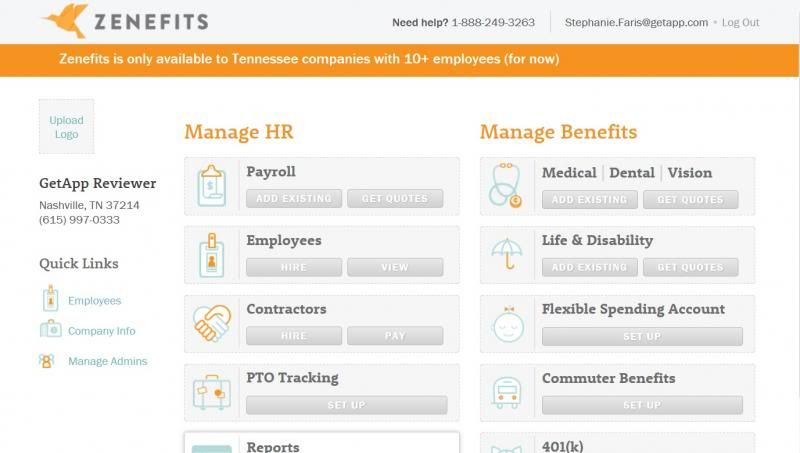 Zenefits main dashboard
Clicking on "Employees" takes the user to a screen where new employees can be added.
Employees main view
Clicking on Add/Hire Employee takes the user to a screen that walks him through the steps of hiring a new employee. Once basic information about the employee has been collected, the system will gather information for tax and benefits purposes.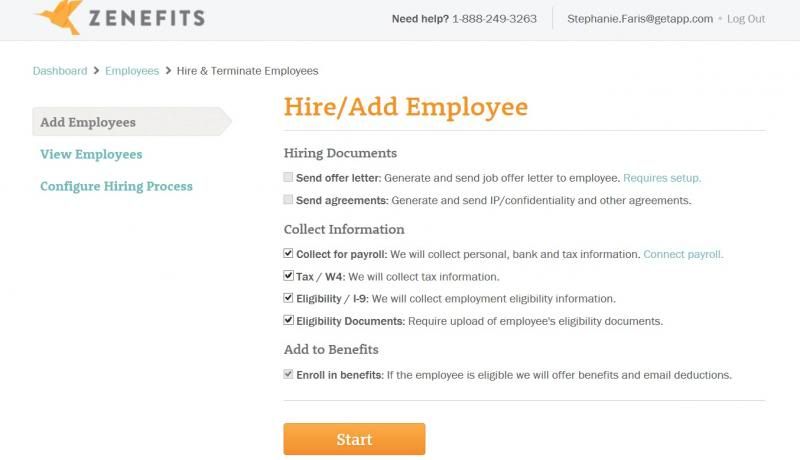 Hire/Add Employee main window
After employees had been added, users can add admins by searching existing employees. External admins can be added, as well.
Once employees have been added, users can connect existing payroll providers, choosing from ADP, Intuit, QuickBooksOnline, Paychex, Paylocity, ZenPayroll, or ManagePayroll.
Payroll provider selection
Support Information
Phone support is available, with the number posted at the top of each screen.
Pricing Information
Zenefits is free.
The Bottom Line
Zenefits is surprisingly comprehensive for a free solution, providing everything a user could need to manage employees. With connectivity to a variety of payroll solutions, the app can import existing payroll information to help populate the system.
Ratings: ease of use 4/5, features 4/5, value 5/5